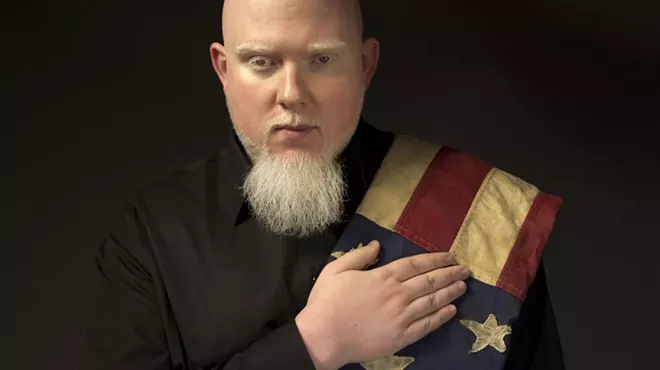 Halloween is obviously one of the week's biggest nights, but there's plenty going on all week long, as you can see in our
event listings
and
Staff Picks
. Here are some highlights of the week ahead:
Monday, Oct. 30
WORDS | Head over to Spark Central for a book release and performance called
Tarot Time
, a collection of community writers sharing stories inspired by the Major Arcana Tarot set.
Tuesday, Oct. 31
LIVE MUSIC | It's Halloween night, duh, so after you either go trick-or-treating or stay home and hand out candy, get out on the town for one of the many music events happening.
The Big Dipper hosts East L.A. rockers
Thee Commons
, a trio blending punk rock and traditional Mexican music.
The Knitting Factory welcomes costumes for the
Silversun Pickups
show; you can read about the long-running rockers in
our interview with the band
. They're joined by Minus the Bear.
The Bartlett hosts masterful singer/songwriter
David Ramirez
, a worthy headliner on a big night out.
Wednesday, Nov. 1
WORDS | Head to the downtown Spokane library for a talk on
Writing in the Margins: Transforming the Stories We Tell About Race
, a free discussion led by Jessica Maucione.
LIVE MUSIC |
Brother Ali
is one of the most mesmerizing rappers around, and he's headlining a show at the Bartlett tonight. Check out a sample of this most unique artist:
Thursday, Nov. 2
FESTIVAL | Emerge hosts a
Day of the Dead Fiesta
in Coeur d'Alene, full of great music, food, and most importantly, people.
WORDS |
Pivot
returns to the main stage at the Washington Cracker Co. Building for its next chapter of the storytelling event, this one revolving around "promises" as its theme.
LIVE MUSIC |
Deer Tick
delivers one of the best shows in modern rock, and this time they're doing a half-acoustic, half-rock performance at the Bartlett in support of their two new albums.
We talked to the band
before they hit the road for their first-ever Spokane gig. The show is sold out, so hit the web and try to find some tix! Here's a sample:
Friday, Nov. 3
COMEDY |
Greg Fitzsimmons
is one funny cat. I know him from his wry observations on a bunch of those "I Love the '80s" shows on VH1 way back when, but he's a standup pro and headlining Spokane Comedy Club all weekend.
VISUAL ARTS | Hey, Spokane, it's
First Friday
! Go see art!
COMEDY | Hey dads, WSU students and people who love funny things in general,
Seth Meyers
is headlining Dads Weekend in Pullman tonight. Should be great.
Saturday, Nov. 4
BENEFIT | KYRS hosts its
Spokane Record Expo
Saturday morning, where you can get some aural goodies on the cheap while supporting the station.
CLASSICAL MUSIC | Spokane hometown boy-turned-international vocal superstar
Thomas Hampson
swings by for a couple shows at the Fox on Saturday and Sunday. Overtures and Arias should be a treat for fans of that sweet baritone. Watch for an interview with the man in the new issue out later this week.
LIVE MUSIC | A mighty fine show at the Bartlett tonight courtesy of
The Weather Station
, joined by James Elkington and Liza Day. Here's a sample: