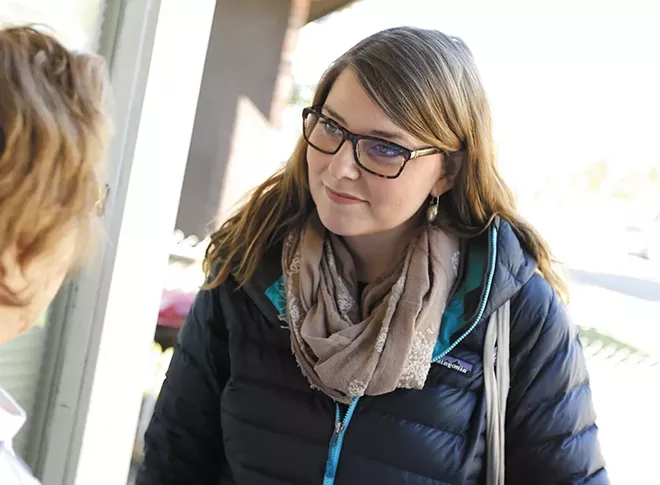 INLANDER ELECTION CENTRAL
Entering Election Day, Spokane's city council leaned heavily toward liberal/progressive philosophies and policies; that'll continue to be the case after all the ballots are counted.
Not all of the mailed ballots are in, and just over one-third of you voted —
34.16 percent of the nearly 305,000 registered voters in Spokane County
. All numbers have been updated to reflect Wednesday afternoon's newest ballot count.
In the District 1 race, Kate Burke will join the council after breezing past Tim Benn. Breean Beggs (District 2), serving the rest of his first term, and Candace Mumm (District 3), beginning her second, retained their seats as well:
District 1 (Northeast Spokane, including Hillyard)
Running to replace term-limited Councilwoman Amber Waldref:
Kate Burke 58.3%
• Tim Benn 41.7%
District 2 (South Hill, Browne's Addition, West Plains, most of Downtown)
Beggs was appointed to City Council in February 2016:
Breean Beggs 57.9%
• Andy Dunau 42.1%
District 3 (Northwest Spokane, from West Central to Indian Trail)
Mumm, the incumbent, was elected in 2013:
Candace Mumm
53.1%
• Matthew Howes 46.9%
Proposition 2
• By 57.5 to 42.5 percent, Spokane voters rejected the ballot initiative that would have fined owners of oil and coal trains who did not take steps to make their cargo safer; there were
significant questions regarding the proposition's legality
, and the industry-funded opposition
raised more than $160,000
; Prop 2 backers brought in less than $6,000.
Spokane Superior Court, Position 6
• Tony Hazel, appointed to replace the late Sam Cozza in May, defeated Spokane County public defender Jocelyn Cook with
61.6 percent of the vote
.

Spokane Municipal Court, District 1
• Adam Papini, a city prosecutor who continued to run after being charged with a DUI in Cheney in June,
lost to incumbent Tracy Staab
, receiving just 26.3 percent of the vote.
Spokane Public Schools, Position 5
• Incumbent Mike Wiser, appointed to the school board in March, received 62.9 percent of the vote to Jennifer Thomas' 37.1 percent. Another school board member, Deana Brower, was unopposed.
MORE NOTABLE RACES
A libertarian, defiantly far-right majority on Spokane Valley's city council is giving way to a
more centrist group
of candidates,
shifting the balance of power
in the city of nearly 100,000; Mayor Rod Higgins, in a race that finally has been called, defeated Chris Jackson by 271 votes. (winners in
bold
type; incumbents in
italics
):

District 1:
Rod Higgins
50.8% • Chris Jackson 49.2%
District 2:
Brandi Peetz 57.1%
•
Caleb Collier
42.9%
District 4: Ben Wick 58.6%
•
Ed Pace
41.4%
District 5:
Pamela Haley 61.4%
• Angie Beem 38.6%
District 7
:
Linda (Hatcher) Thompson 56.5%
•
Mike Munch
43.5%
7th Legislative District
• Bordered by British Columbia on the north and Idaho to the east, it consists of parts of Spokane and Okanogan and all of Stevens, Pend Oreille and Ferry counties: Republican
Sen. Shelly Short
of Addy and
Rep. Jacquelin Maycumber
of Republic, who succeeded Short in February, won with 68 and 67 percent, respectively.
For the first time
in 91 years,
Seattle elected a woman mayor
: Jenny Durkan, a former U.S. Attorney, defeated urban planner Cary Moon 56 percent to 44 percent and will succeed former city councilman Tim Burgess, who replaced scandal-plagued Ed Murray in September.
Bertha Knight Landes was the city's mayor
from 1926-28. (
Seattle Times
)
In Seattle's eastside suburbs,
Manka Dhingra defeated Jinyoung Englund by 10 points
in the 45th District; her victory gives Democrats control of the Washington State Senate, which had been the
only legislative body on the West Coast
held by Republicans, and returns one-party rule to Olympia for the first time in four years. (
Seattle Times, New York Times
)
•
How will Democratic
control of the state Senate affect policy decisions in Washington? The
Spokesman-Review
's Jim Camden points to
seven potential changes
in Olympia.
In Virginia,
Democratic lieutenant governor and physician Ralph Northam
was elected governor
, defeating former Republican National Committee chair Ed Gillespie; the party
also swept statewide offices
and is
poised to flip the state's House of Delegates
,
where the GOP had held a commanding 66-34 advantage. (
Washington Post
)
•
Phil Murphy,
who ran on a platform including aa $15 minimum wage and legalizing marijuana,
took back New Jersey's statehouse
from Chris Christie, who leaves his two terms in office as one of the nation's least popular governors. (
New York Times
)
•
Analysis:
President Trump's election-night tweets
made a bad night for Republicans much worse for himself
. (
Washington Post)



IN OTHER NEWS

Harvey Weinstein is even worse than you thought he was
The
sordid tale of the Hollywood mogul
, accused of sexually assaulting multiple women,
now includes an army of spies
— private investigators, including former members of Mossad, Israel's intelligence agency — hired by Weinstein to harass and intimidate actresses and journalists, according to the
New Yorker
's Ronan Farrow.
•
These 63 women
have
accused Weinstein of sexual harassment and assault
. (
Vanity Fair
)
Trump to Kim: "Do not try us"
President Trump, addressing South Korea's parliament,
had a characteristically blunt message
for North Korean leader Kim Jong-un. Trump is now in China for
high-stakes talks with President Xi Jinping
on his
five-nation, 12-day tour of Asia
. (BBC,
New York Times
)
•
During his speech,
the president departed from Asian security concerns to
promote his Trump National Golf Course
in New Jersey. (
Washington Post
)
•
"America First"
means
putting human rights last
during Trump's trip to Asia. (
Vox
)
Arrest in Valley slaying
A multi-agency manhunt lasting several hours ended yesterday with the arrest by Spokane police of 37-year-old David Campbell,
accused of stabbing to death
a woman believed to be his ex-girlfriend earlier in the day in Spokane Valley. (
Spokesman-Review
)