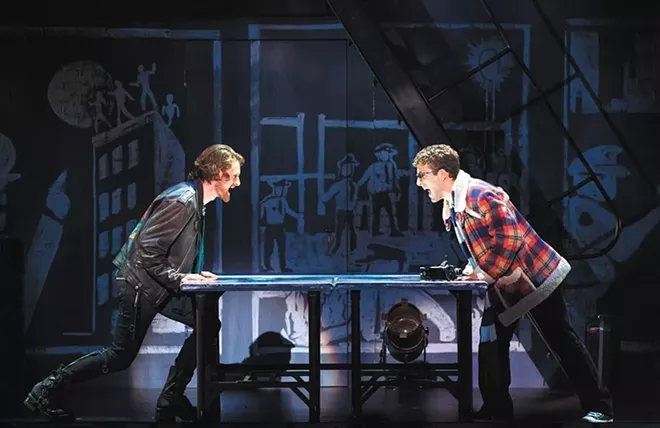 Monday, Nov. 27

MUSIC |
Johnny Lang
has moved from being a blues-guitar prodigy to a grown-ass man with some serious skills as a performer and songwriter incorporating rock and soul, too. He headlines the Bing tonight.
UPDATE: Lang's show has been postponed until April 10, 2018, due to illness.
COMMUNITY | Head over to Northern Quest for a chance to spin the big wheel on
The Price is Right Live!
Tuesday, Nov. 28
MUSIC |
A Perfect Circle
brings their prog-rock weirdness to the Spokane Arena tonight.
Read our interview with the band
before you go.
Wednesday, Nov. 39
WORDS | Head over to Gonzaga and join Washington Poet Laureate Tod Marshall and a slew of talented poets for
readings from WA129
, a collection of Washington-produced and occasionally Washington-themed poetry. It's in the Wolff Auditorium and it's free.
WORDS |
Inlander
columnist
Robert Herold reads
from his new book
Robert's Rules
tonight at Auntie's, so consider the night a literary double-dip.
Thursday, Nov. 30
THEATER | The
20th anniversary tour of Rent
starts its run at INB Performing Arts Center tonight.
Read our story
about this pioneering Broadway musical before the show.
WORDS | Head to Gonzaga for what should be an intriguing talk about "
Finding Feminism on the Small Screen: Liberating the Television
," starting at 7 pm. It's free at the Jundt Art Museum.
DANCE | The Spokane Symphony's annual run of
The Nutcracker
starts tonight. It runs through Dec. 3.
Friday, Dec. 1
COMEDY |
Microbiography 6
takes stories by Kris Dinnison and Rachel Hamby, and then has them acted out by the Freedom Association crew. It's funny, poignant, and a night unlike any other in town.
VISUAL ARTS | The
Kendall Yards Artisan Fest
is one of many First Friday stops worth your time tonight. Last First Friday before Christmas, people!
Saturday, Dec. 2
MUSIC | Northwest of Nashville is a monthly twangy treat, and this time it's the
Northwest of Nashville Christmas Show
at the Bartlett, featuring Jenny Anne Mannan, Chris Molitor, Matt Mitchell (of Folkinception), Scott Ryan and many more. A perfect way to get in the swing of the season right here.