Twice, it appeared the 2018 Women's March in Spokane was canceled. The first time was a Facebook glitch. The second time it had really been canceled — because of internal division among the group organizing it.
Despite continued anger about the Trump presidency, it looked like Washington state's second largest city wouldn't have an official organized
protest
on the anniversary of Trump's inauguration.
The Spokane Women's March was off.
But quickly, Democratic precinct committee officer Cynthia Hamilton and other activists started working furiously behind the scenes to guarantee it would happen.
"The community was out there hollering, 'What do you mean we might not have the Women's March'?" Hamilton says. "I don't know why it fell apart. But I didn't want it to fall apart."
Hamilton is investing thousands of dollars of her own money to help make the event happen, hoping that the community will be able to fundraise to pay her back and fund the rest of the event's cost. The Women's March, Hamilton promises, is happening on Sunday, Jan. 21, starting at noon from the Gathering Place. (UPDATE: The starting location has since been changed to the Red Wagon in Riverfront Park.)
"The march is on," Hamilton says. "It's called the 'Women's Persistence March Spokane'."
The recent struggle demonstrates the challenge of converting an outpouring of passion and protest into a larger movement: It's not enough to just have local intensity — you've got to do the hard work of organizing and bringing together an often divided coalition.
A
year ago, the Spokane's Women's March, part of a national movement that started from a
grandmother in Hawaii
, had been a smashing success. Organizers in Spokane expected maybe 200 people. Instead,
over 5,000
attended, many outfitted in "pussy hats" referencing Trump's infamous
Access Hollywood
comments.
A sequel seemed inevitable. Angela Beem, the march's lead coordinator, became president of the board for Women's March for Washington state. And an event for Spokane was planned. But last month, the march ran into several problems.
The first issue was technical.
On December 18, fans of the "Women+s March on Washington - Washington State" Facebook page watched the event page for the Spokane march
get deleted
, with the event seemingly canceled.
"There is a glitch in Facebook's algorithm that has been marking people's shares of our Spokane Washington Women+ Move Mountains event as 'spam' and, as a result, has deleted our event page itself. We are working right now to restore everything," Beem assured fans.
Beem says she worked quickly to get Facebook to restore the page.
"It was very frustrating and a long evening," Beem explains in a Facebook message to the
Inlander
.
But all that work was ultimately for naught. Soon after that, Beem canceled the event for real, telling potential attendees that the local women's march team's "current leadership's vision and event plans that do not appear to be feasible with our present resources, nor compatible with [the Women March on Washington] team's vision."
Walla Walla, Yakima, and other local cities would get a march — but Spokane wouldn't.
In a Facebook message to the
Inlander
, Beem elaborated, explaining that, as an all-inclusive non-partisan non-profit, the Women's March was focused on educating people about legislation on issues like equity and human rights. It wasn't meant to be a political group singling out people or organizations.
"The team that formed here in Spokane didn't seem to want to follow that vision, our mission, and our nonpolitical stance," Beem writes.
Beem says the conflict wasn't about Trump so much as how the group would handle the tricky issues involving local candidacies and non-profit organizations that are barred from campaigning or making endorsements.
"Continuing to host such an event would go against our mission and values and threaten our 501c3 status," Beem says. "We had to cancel."
And that wasn't the only point of conflict: Beem also says the state Women's March group wasn't willing to pay for the convention center.
"They wanted the big Convention Center. Which is a big financial bill," Beem says. "They hadn't yet done the outreach to get interest and time is running out. With their current work, we couldn't justify that expense."
Beem declined to name anyone who was a part of the initial Spokane Women's march group.
"It was not an amicable separation," Beem says. "But I won't name people, because I hope that the march is successful and it doesn't need any negativity tarnishing it."
F
or many local activists in Spokane, however, the march's cancellation led to a wave of confusion and frustration. But other activists rushed into the gap.
Cynthia Hamilton, leader of "
Project Snowflake
," announced that Indivisible Spokane, a loose nonformal organization of local progressives,
would take over the march
.
It's meant throwing together an event for thousands in the span of a single month.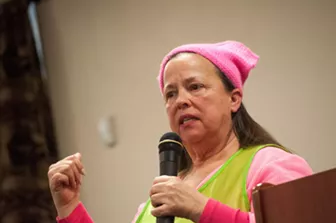 Hamilton has been calling for volunteers, for people who could make banners or bookmarks, and for people who could consolidate contact info from spreadsheets.
"You always step up to the plate when asked, and we are asking now!" she asked on Facebook in December.
More recently, Hamilton's decided to put down $3,000 of her own money to pay for the deposit for the Convention Center. She'll have to find another $9,000 before the event on Jan 21.
"That's just for the Convention Center," Hamilton says. "The march could run as high as $4,500 depending on the route."
To pay for all that, Hamilton is hoping that citizens can chip in with donations in order to pay the costs. Indivisible Spokane's already announced at least one fundraiser: an art auction at the Tamarack Public House on January 14 from 6-11.
"Of course it's stressful. Anytime anybody steps into a big event it's like,
okay
…" Hamilton says. "But the whole community is helping."
Despite the stress, Hamilton's wants to focus on the positive. She's excited about the event. There will be street events, two groups of convention center speakers — names to be disclosed later — and the march itself.
"It's going to be fun!" she says. "We're just going to make it happen."
And though Beem is no longer involved with the organizing, Beem says she's rooting for the march to succeed.
"We hope that they can get organized and start advertising their march," Beem says. "We want it to be successful for all of us here in Spokane. We need the community to come together."