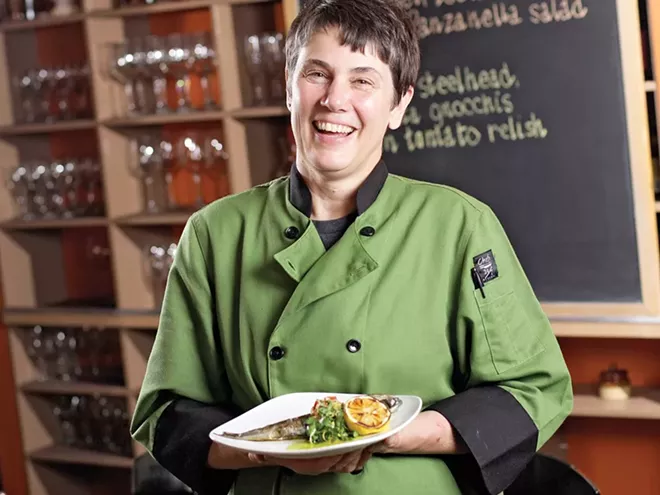 ITALIA TRATTORIA CHEF ANNA VOGEL NAMED A JAMES BEARD AWARD SEMIFINALIST
For the fourth year in a row, a Spokane chef has been named as
a semifinalist
for the prestigious
James Beard Awards
, an annual honor bestowed by the NYC-based James Beard Foundation.
Chef Anna Vogel, who co-owns the Browne's Addition restaurant Italia Trattoria with Bethe Bowman, was named a semifinalist for the Beard Awards' Best Chef: Northwest category, one perennially dominated by chefs based in Portland and Seattle.
Vogel's culinary resume includes past stints in major global cities: Sydney, Boston, New York and Seattle. She opened Italia Trattoria, which offers seasonal dishes rooted in Italian cuisine and features Northwest flavors and ingredients, with Bowman back in 2010. Since then, the restaurant has established a respectable local following and a reputation as one of the best fine-dining spots in the area.
Subsequently over the past three years, Inland Northwest chefs who've been named James Beard Award semifinalists for the Best Chef: Northwest category include
Jeremy Hansen
, in 2015;
Adam Hegsted
, in 2016; and
Laurent Zirotti
, in 2017.
The James Beard Foundation's mission is "to celebrate, nurture, and honor chefs and leaders making America's food culture more delicious, diverse and sustainable for everyone."
Being named a Beard Award semifinalist is no easy feat. An online call for nominations opens in the fall, and semifinalists are selected from the tens of thousands of nominations that come in from around the country. The Beard Awards are considered one of the highest honors in the food industry.
The lists of semifinalists in each of the 2018 Awards' 21 categories will be narrowed down to five nominees in each on March 14, and final winners will be honored during a special event in May.
NO-LI'S NEW BARREL-AGED BEERS COMMEMORATE WINTER OLYMPICS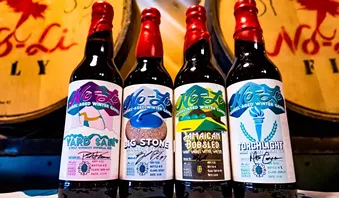 Do yourself a favor and stop by the
No-Li Brewhouse
headquarters in East Spokane and pick up some tasty, Olympic-themed, barrel-aged beers before your next evening watch of the ongoing 2018 Winter Games.
Last weekend, the Spokane brewery unveiled all four of its new, limited-release bottles for its Barrel-Aged Winter Game series, each with fun names inspired by the Winter Olympics' many events.
The Jamaican Bobsled is a 7.5 percent ABV winter ale that was aged for more than two years in a wheat whiskey barrel, and boasts a caramel finish and oaky body. The Big Stone is a bourbon barrel imperial stout at 9.5 percent ABV that began as No-Li mainstay Wrecking Ball. Yard Sale's name is a nod to Olympic skiers; the beer style is a wheat whiskey imperial red ale aged for three years in three separate barrels, coming in at 8.2 percent ABV. Last up is Torchlight, a wheat whiskey barley wine that began its aging process during the last Winter Games back in 2014.
Only 120 bottles (24 oz.) of each of the four beers are available ($14.99 each), and only in the brewpub. In addition to the bottles, though, No-Li is designating two rotating taps (until the kegs run dry) in its brewpub for these limited edition brews; this week Yard Sale and Jamaican Bobsled are featured.
HOW MUCH FOOD DO YOU WASTE?

I want to kick myself every time I open my vegetable crisper or freezer and find something hiding in the back that's just a little past its prime, requiring me to chuck it into the trash instead of into my belly. Food waste is one of the most frustrating global problems of modern society, and even more so when we consider all the people in our own communities who are struggling to feed themselves or their families.
Learn more about this problem and how you can combat it at an upcoming screening of the documentary
Just Eat It: A Food Waste Story,
co-hosted by a collective of local hunger-tackling nonprofits: the Spokane Edible Tree Project, Master Gardener Foundation of Spokane County, Feed Spokane and Catholic Charities of Spokane. Held this coming
Tuesday, Feb. 20, at 7 pm
, in the Community Building (35 W. Main), the screening will be followed by a panel discussion with leaders from all four groups.
Just Eat It
follows two filmmakers on their mission to survive only on foods that would have otherwise been thrown away. The film explores food waste — it's estimated that 40 percent of all food produced in America goes to waste — through discussions with farmers, retailers and community organizers, identifying systemic causes and potential solutions.
Attend the screening and learn about how you can waste less food, and also help organizations working to feed our community, by making a $5 donation.