Make Easter brunch reservations soon so you and your family don't miss the chance to dine together for the holiday this weekend, on Sunday, April 1. Here are a few local restaurants' special menus that have caught our eye so far: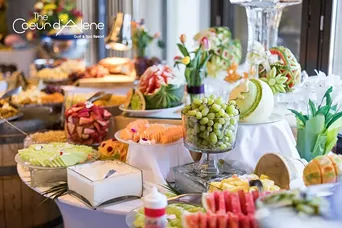 IN COEUR D'ALENE:

315 Martinis & Tapas

Served from 9:30 am-1:30 pm; $25.75/person

The
buffet-style menu
includes Florentine benedicts, omelets, creme brulee French toast, spring salad, honey and butter-baked ham, fresh-baked pastries and more.
Reservations: 208-667-9660 ext. 1
The Coeur d'Alene Resort

Served from 8 am-4 pm (Dockside) and 9 am-3 pm (Beverly's); $60/$47 adults, $31/$24 ages 5-12
In addition to
two brunch buffets
, the resort is also offering an Easter Sunday lake cruise with a full brunch buffet. Departures are at 11:30 am and noon and prepaid reservations are required. Cruise tickets are $51 for adults, $47 for seniors (55+) and $31 for ages 6-12.
Reservations: 208-765-4000 or cdaresort.com

Bistro on Spruce

Served from 9 am-2 pm; $27/adults, $15/ages 6-12

The buffet menu
includes roasted wild salmon, honey ham and Mediterranean lamb, as well as meat and veggie stratas, warm fruit cobbler, eggs benedict and more.
Reservations: 208-664-1774


IN SPOKANE & SPOKANE VALLEY
The Barrel Steak & Seafood House

Served from 9 am-3 pm; menu items priced individually

The North Spokane restaurant's
a la carte menu
includes crabs benedict, a southwest burrito, scramble, chicken-fried steak, French toast and more.
Reservations: 467-5490

Twigs Bistro & Martini Bar

Served from 9 am-2 pm; $29/adults ($36 with champagne), $14/ages 6-12

All four
Spokane-area Twigs locations
(South Hill, Spokane Valley, Wandermere, downtown) will serve an all-you-can-eat brunch with all the brunch standards, from omelets to benedicts and a carving station with prime rib, wild Alaskan salmon and smoked ham.
Reservations: twigsbistro.com/easter-brunch

Mirabeau Park Hotel

Served from 9 am-1:30 pm; $36/adults, $31/seniors, $21.50/ages 5-12

Held in the hotel's ballroom,
the brunch
includes stations for Belgian waffles, French omelets, carved meats, baked goods, salads and seafood.
Reservations: 922-6252

Das Stein Haus

Served from 9 am-1 pm; $23/adults, $20/seniors, $12/ages 6-12

The
buffet menu
includes corned beef hash, biscuits and gravy, French toast, pancakes, a fruit and salad bar, potato salads and a carving table of prime rib and honey-glazed ham.
Reservations: 326-2214

Other local Easter brunch spots to consider:
The Coeur d'Alene Casino
,
Marketplace Bakery & Deli
in Cheney, the
Historic Davenport Hotel
, and
Luna
on Spokane's South Hill.