U
.S. Rep. Cathy McMorris Rodgers dodges tough
questions like a politician.
She'll dodge by answering questions you didn't ask for. She'll seek to return to safe talking points. (
"Donald Trump was elected president...
.") Sometimes, you have to ask the same question two or three times to get a straight answer.
But her opponent, Lisa Brown? So far, she seems to dodge tough questions more like an academic — or a college administrator.
She'll say she hasn't formed a view on that issue yet or doesn't have enough data. She'll call for the creation of a committee to study the topic. She'll suggest she wants to spend time listening before articulating a position.
It's not like Brown hasn't had an opportunity to form detailed opinions on political issues:
Brown first entered politics in the Washington state Legislature in 1992. She spent two decades in the thick of the political debate, rising to become the Senate Majority Leader of the Washington state Democrats.
But on one of the most controversial issues of the day, immigration, Brown offers fiery critiques against Trump and McMorris Rodgers, but says that she hasn't yet developed specific answers to several major questions
.
And it's not clear whether she will before the election.
L
ast week, in an interview
with the
Inlander
in the midst of the national outcry against Trump's family separation policy, Brown joined the chorus of condemnations against Trump, calling his policy "both inhumane and a human rights violation, particularly given that some of these families are fleeing desperate or even violent situations and seeking asylum here."
She called for Trump to end his family separation policy and argued that the Deferred Action for Childhood Arrivals (DACA) program should be reinstated as well.
And then, she says, there needs to be "a comprehensive immigration bill that is negotiated between the House and the Senate and the Democrats and the Republicans. It would be multifaceted and long overdue."
She says that sort of bill should address issues around temporary worker programs, the asylum process and border security. She's critical of Congress' inability to strike a bipartisan compromise.
But when pressed on what her ideal immigration system would look like, she offers few general principles — and even fewer specifics.
"Should border security be increased?" the
Inlander
asks.
"I think that border security is part of immigration policy," Brown responds.

She declines to elaborate on what that border security should look like, or whether it should be increased or not.


"I'm not prepared to talk about all the details on all the bills that are out there," she says. Should we decrease or increase legal immigration?
"I honestly need to review those questions in light of current policy," Brown says. "I'm not prepared to talk about all the different aspects."
Should Immigration and Customs Enforcement be abolished, as some activists — including a surprise winner of last night's Democratic primary in New York — have demanded?
"I'd have to review that as well," Brown says.
The
Inlander
asks about a concern raised by some that by not
detaining asylum seekers
until their hearing that they may disappear and never show up for court.
Brown says that's something she would be digging into — if she were in Congress.
"That's the kind of thing that were I in Congress, I would be listening to the evidence to be coming forward from law enforcement, the legal justice system, and a whole variety of stakeholders who have knowledge of the process, and then weigh the pros and cons of how to move forward to have the right systems in the right place have a fair system," Brown says. "Really that hasn't happened. There's been a logjam in America for quite a long time."
And how about the visa system? What should we do to improve it?

Brown says that she's heard from constituents that there are bureaucratic problems with the system that needs to be reformed.

"I don't have the details of what that should look like," Brown says.

Brown argues that, as a candidate, she doesn't have the same power to get answers as she would as a policymaker.

"My approach as a policymaker was always to get an analysis of a status quo and the problems that the people in my district are experiencing with it," Brown says. "That is, to understand the lay of the land … and then work on a path forward. As a candidate, I'm not in that position."
She says she'll be happy to comment on specific bills that are introduced or to raise issues raised by her constituents. But don't expect her to come out with, say, a detailed immigration plan
.

"I'm not prepared to put out a comprehensive immigration bill," Brown told the
Inlander
last week.
I
n other interviews
, Brown has given slightly more hints about her position. In an
Inlander
interview in May, Brown slammed McMorris Rodgers for using DACA recipients as "bargaining chips" as part of a larger immigration deal, said she was opposed to Trump's wall proposal and also suggested she might be open to a form of amnesty.
"We have people here who are living in the shadows," Brown said. "We need to come up with a process of bringing them out into the open and giving them ways to work towards citizenship."
And in February, a
Spokesman-Review
questionnaire
laid out
the general positions of both candidates, with Brown staking out positions supportive of DACA and family reunification, but opposed to Trump's border wall.
But here too, she was vague in several areas.
"I don't think an arbitrary number is the right approach," she said when asked about how many refugees should be allowed in the United States each year. On guest worker visas she said she needs to study the issue more to find out which changes need to be made.
"I don't have the ideal immigration policy sketched out," she told the
Spokesman
. "I'll work on the details of that as we go forward."
More than four months have passed since.
I
mmigration isn't the only area
where Brown has declined to outline a specific policy on major questions.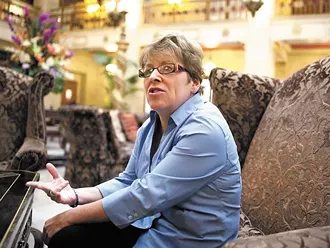 Asked if she'd support a bill to ban AR-15 rifles, Brown doesn't say yes or no. Instead, she says that she'd form a bipartisan committee to study the issue.
"I'm not going to prejudge where that would lead," Brown tells
the Inlander
. "I don't come into my candidacy for Congress with a 10-point plan. I'm traveling throughout the district and listening to what people have to say."
Contrast that sort of language with a story
from 2012,
and notice how deeply Brown plunges into the weeds and how specific she gets when talking about her advocacy for an income tax and family leave policies.
Immigration, meanwhile, is a particularly important issue for a candidate who desires to serve on the House agriculture committee. And unlike, say, taxes or education, we don't have a long record of statements and votes from her state Legislature years to understand her views on immigration.
Brown is not the only Democrat reticent to go beyond anti-Trump rhetoric on immigration. On an episode of the liberal
Pod Save America
podcast last week, former Obama speechwriter Jon Lovett lamented Democratic
timidity
on this issue:
Democrats are afraid of this issue. They're afraid to say 'Here's what I'm for on immigration.'

Not just on pieces of it. Not just on DACA. Not just on children being ripped away from their parents. Not just on asylum. Not just on refugees. But what is our immigration policy as a party? How many people should come in? What should we do at the border? What should we do with people who are undocumented? How long until they can get on the path to citizenship? All of that stuff, we have walked away from it basically completely in terms of what we talk about every single day. ...

The only argument is the Trump argument and the anti-Trump argument, but that is a fraction of the complicated conversation we need to have about the fact that our immigration system is totally broken."


If Brown wants to have that complicated conversation — and talk specifically about what sort of comprehensive bill she'd support and what kind she would oppose — the
Inlander
will be ready to write about it.
In the meantime, McMorris Rodgers has been in the thick of detailed immigration policy discussions, caught between two wings of her own party. She was part of the leadership attempt to quell the moderates who wanted to push a standalone DACA bill, but also voted in opposition to a hardline immigration bill
championed
by Idaho's Raúl Labrador.
Yet her own preferred comprehensive bill failed miserably today,
301 to 121
.
Now, McMorris Rodgers says
she's going to take the lead on a more narrow bill
to address family separation legislatively.