E
ven though businesses are reopening
, slowly and partially, it's not hard to predict that we're all likely to still be spending an inordinate amount of time at home for the immediate future.
I'm not complaining, because warm weather and late sunsets mean plenty of time for reading a good book. We've chatted with several bookstores to get recommendations on some solid reads. Next up is Coeur d'Alene's Well-Read Moose bookstore. Owner Melissa DeMotte and several of her staffers take a turn describing a recent read they enjoyed. The store at 2048 N. Main St. in Coeur d'Alene is open for business, but limiting customers to 10 at a time inside, and they continue to offer curbside pickup and mail-order books as well. Visit
wellreadmoose.com
for more information.
Here are the recommendations from the Well-Read Moose team:
THIS IS HOW I LIED, by Heather Gudenkauf
(reviewed by Derrick Brunner)
Classic Gudenkauf! Nothing is as it seems in this twisty book. And there are secrets galore. Read in two days, couldn't put it down. Can't wait to sell this book to mystery lovers!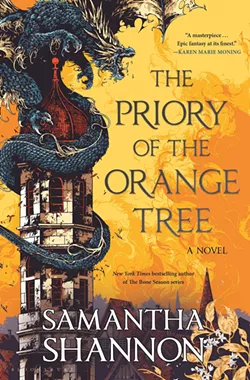 PRIORY OF THE ORANGE TREE,
by Samantha Shannon
(reviewed by Anna Rose Carleton)
Don't let this book's size detour you! It is an epic fantasy like no other and well worth the read. This book is fierce and dangerously enticing! Words are inadequate to describe it. In a queendom of strict rules and pious religion, magic and dragons are seen as upbringings of evil. When the leader of the Dragonic army, monsters of fire and death, starts stirring, the foundation of the queendom is shaken. They must turn to that which they fear to defend themselves against the Dragonic beasts.
Priory of the Orange Tree
has earned its spot next to
Lord of the Rings
and
Game of Thrones
.
THE WAY I HEARD IT, by Mike Rowe
(reviewed by Marlene Craig)
Mike Rowe's written voice is just as entertaining, fun, and informative as his narrations on television. This collection of stories was inspired by Paul Harvey and his radio program,
The Rest of the Story
. Rowe adds commentary about his life and jobs after each feature and I sure hope there is another book soon, because I didn't want this one to end. "A promise made is a debt unpaid." That sentence now resides in my brain.
THE RED LOTUS,
by Chris Bohjalian
(reviewed by Annette Steinmetz)
Good! Good!! Good!!! This is a smart, tangled, and timely thriller! When a man goes missing on a vacation in Vietnam, his girlfriend is left to unravel his lies that unknowingly put her in serious danger. What do his lies really mean? How terrible could his secrets be? The answer, she'll discover, is worse than she could possibly imagine! A fast read with a jaw-dropping, heart-pounding ending!
THE NICKEL BOYS,
by Colson Whitehead
(reviewed by Tom Mollgaard)
I was blown away by
The Underground Railroad
and I couldn't envision how Whitehead could follow up such an imaginative piece of literature. He did it by changing the style and format of the book.
The Nickel Boys
is almost journalistic, Whitehead carefully adds detail to detail, plot to plot, to paint a picture of a must-read moment in American history. As painful as it was to watch my favorite character suffer injustice, I was shocked by the ending.
THE KINGDOM OF BACK, by Marie Lu

(reviewed by Jenny Ramey)

The Kingdom of Back

is a wonderful blend of historical fiction, classical music, fantasy, and coming-of-age. Marie Lu lovingly expands on the tale of Nannerl Mozart, the much lesser-known sister of Wolfgang. The struggle to be remembered in her own right leads Nannerl, and later her brother, to a magical kingdom accessed through her music, stories, and dreams. You don't need to have a knowledge of classical music to appreciate this story. Although there are certainly little treasures of reference sprinkled throughout the novel, giving it just one more level to appreciate.

THE BOOK OF LONGINGS,

by Sue Monk Kidd

(reviewed by Melissa DeMotte)

A glorious novel, one to savor and share with others. Ana's marriage to Jesus is one facet of her complex life which brought her both joy and sorrow. Ana is curious, stubborn, loyal and loving. A woman living in a time when women had no voice, no say in what would happen in their lives. Ana is a scribe who toils in secret to record women's stories and history from their perspectives. Her prayer to God: "Bless the words I write. May they be visible to eyes not yet born."