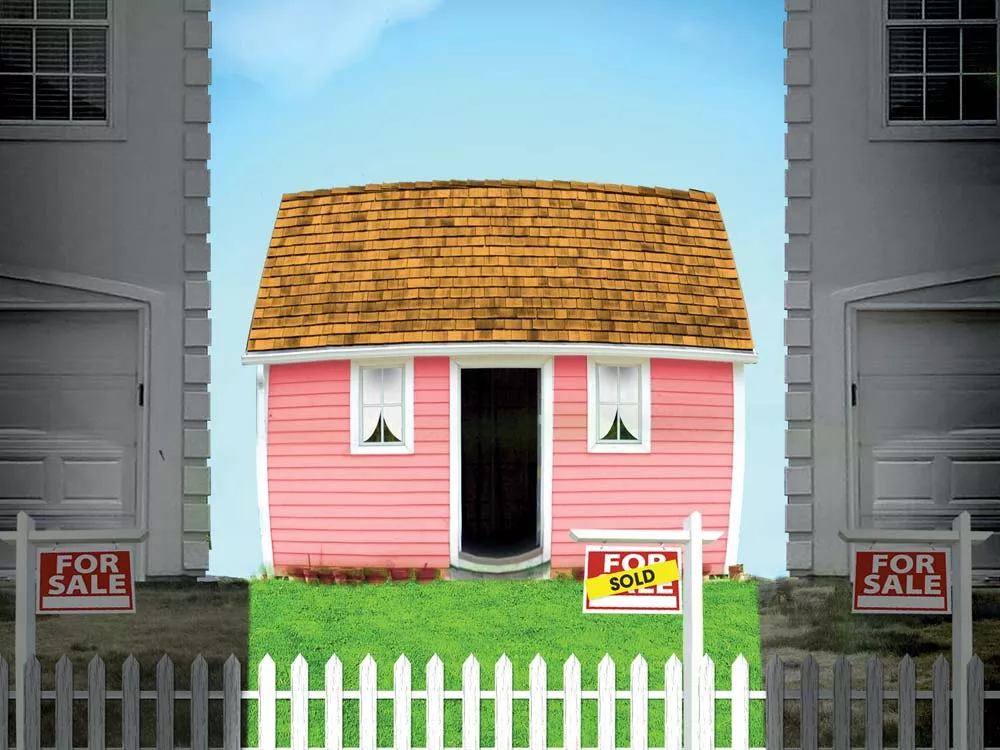 In a circus tent, golden shovel in hand, with hundreds of people hanging on his every word, Marshall Chesrown said it was time to "swim the mother." He was surrounded by 78 acres of dirt.
Dozens of blue and white balloons lined the Monroe Street Bridge, and music filled the air, itself already thick with excitement and anticipation. The date was May 17, 2007 — the official groundbreaking for Kendall Yards.
It was a good day for Spokane. After all, the project was expected to transform the city in a way not seen since 1974, when the World's Fair took an industrial frontier town and remade it into a modern, park-centered metropolis.
Getting it all done, Chesrown explained, would be like swimming the English Channel.
"Today, we're jumping in," he told the large crowd. "It will be a long, hard swim."
As its owner, Chesrown envisioned a final project with 2,600 residential units, houses for those who could afford them near the bustling center of the city. The project, just across the river from downtown, would stretch for more than a mile and came with a $1 billion price tag.
At that time in the Inland Northwest, houses were popping up all over the place, many in cookie-cutter communities. Some of them were massive: McMansions were being erected along the shores of Long Lake, Lake Pend Oreille and Lake Coeur d'Alene. In 2003, there was less than $400 million in new construction in Spokane County. Four years later — the year Chesrown held that golden shovel — there was over $1 billion in new construction recorded in the county.
But times have changed. Like everywhere else in the country, the housing bubble has burst and taken with it the air from what was a pretty steady increase in house sizes since World War II.
New construction is back down to near-2003 levels in the county, and people involved in the homebuilding business say buyers are mainly interested in smaller houses. And they're excited about it.
"That's where the shift is. Younger people, in their 30s and 40s, are seeing this recession with new eyes," says Jeff Fountain, a partner at Spokane's Copeland Architecture. "They're not downsizing. They're saying, 'Let's start out with a small house.'"
Chesrown never made it across that metaphorical channel. Less than three years after the first Kendall Yards groundbreaking, there was a second, more modest one.
Just like its homes, Kendall Yards has downsized. Jim Frank, the new owner, planted a tree to celebrate the new beginning of the very shrunken $25 million project. He slashed the number of residential units from 2,600 to 1,000, and the houses' price tags dropped by tens of thousands of dollars each.
And buyers like it. Almost 30 units have been sold in the nine months since Frank's groundbreaking. A state-of-the-art, energy-efficient 1,100-square-foot house at Kendall Yards sold recently for less than $160,000. It's a 10-minute walk from Riverfront Park. This June, a second phase of construction begins, with more living units and new commercial space.
Chesrown drowned, but somebody's swimming the mother, afloat with the tiniest houses.
American taste in homes has changed in many ways over the last 60 years. After defeating the Nazis and the Japanese empire, American GIs came home and promptly moved to the suburbs. Garages appeared, climate control was installed and vegetable gardens gave way to more lawn.
But, most importantly, homes grew.
Today, the average home is more than twice as big as it was in 1950, when the average house was 983 square feet, and sold for less than $10,000.
It's hard to remember this — mainly because so many homebuyers nowadays weren't even alive then — but in the 1950s and '60s, most people thought it was normal to have one bathroom in a house, or to have kids share a bedroom. Remember the Brady Bunch, where all three girls were in a room, and the boys were in another? (And this is considering that the Brady home was quite grand by their contemporary standards. Mr. Brady was an architect, after all.)
By 2006, the median sale price for a single-family home shot to $256,000, its peak. The next year, house size reached its zenith at 2,521 square feet. Almost six decades of growth — not only in price, but also in size — was unrelenting and unstoppable.
Until the recession, that is.
"One of the things we realized in the industry was the homes we were building, the McMansions, were a waste," says Jayson Hunnel, director of sales and marketing at Greenstone Homes, the company owned by Frank that's developing Kendall Yards. "This New Urbanism is probably what's going to be driving this, the end of suburbia, this compact style of living."
By 2009, only seven percent of homes built were larger than 4,000 square feet. Three years earlier, almost 10 percent fit this bill.
And it's for the better, says Joe Mann, board president of the Spokane Association of Realtors. He tells the story of Elk Ridge Heights, a development in Spokane Valley that intended to have an "earlier 20th-century feel to it."
"It eventually went bankrupt," he says. "They built 4,500-square-foot homes [being sold for $600,000]. They only completed seven homes. All four of the builders went bankrupt. The developer went bankrupt. It all went back to Sterling [Savings Bank]."
It goes to show that smaller homes are desirable, Mann says, and he sees the average house size dwindling. Maybe eventually down to 1,800 square feet.
He could be right. In the last four years, the average home size shrunk in a big way. Nowadays, homes being bought average 2,100 square feet. We're back to 1990 levels.
"A new housing market is emerging, and even with the recession in the rear view mirror, we expect the popularity of smaller homes to persist," writes Bob Jones, chairman of the National Association of Home Builders and a homebuilder from Bloomfield Hills, Mich., in an article on the group's website.
Jones was responding to a report done by economists for the NAHB in October 2010 that made a case for this: Homebuyers don't want monstrous McMansions anymore. They want smaller, individualized homes. The factors driving such a trend, the economists argued, were many: desire to keep energy costs down, less interest in buying a house as an investment and the growing numbers of first-time homebuyers.
"We've been hearing for years how houses are going to get smaller. We've been hearing that for 20 years, but houses kept getting bigger," says Rob Higgins, executive director of the Spokane Association of Realtors. "But what's happened over the last couple of years has brought it to realization."
Pete Rayner has a view of the entire Spokane River drainage. He can see Idaho, Mount Spokane, all of downtown Spokane, the Nine Mile area — everywhere.
Standing on a porch at Rayner's Beacon Hill event center, you can also see his plans for the future.
"Right where that post is," he says, pointing to a golf flag that currently acts as the lone target on his makeshift driving range, "that'll be town homes." It's the future Chronicle Street. To its south will be Longfellow Avenue.
There aren't any homes yet, but Rayner expects the City of Spokane's hearings examiner to give the green light next week to the first phase of his project, which will build 300 homes on 40 of his acres.
"I'm doing this with $5 gas in mind," he says. "Before the bubble burst, everyone was building 4,000-square-foot-and-up-homes. Like on West Shore Road and Charles Road. Well, when the price of gas went up to $4 a gallon, those homes all went up for sale."
Rayner is all for "New Urbanism." He says he understands the desire for smaller homes — it increases density and allows for more open space and parks, things that are part of his design. It's not that he's morally opposed to McMansions. It's just that people can't afford to build them.
"There might be a few [big houses] in these first 300" units in the first phase of Beacon Hill, Rayner says. "I'm not going to discourage it," he adds with a laugh.
He just doesn't anticipate people building large homes. Of those first 300 homes in the project's initial phase, Rayner expects a majority, 200 or so, to be duplexes or apartment-sized residences. They'll sell for $145,000, at the low end.
What will draw homeowners to Beacon Hill, argues Rayner, is the lifestyle. If everything goes according to plan, his development will soon be very near a major interchange for the North Spokane Corridor. The development also sits on the edge of a large tract of wilderness, and Rayner's part of a group trying to combine a few existing parks and some private land into a 1,000-acre park.
And in line with another trend emerging from the housing crisis, Rayner isn't building a one-size-fits-all subdivision. As the economists' report for the NAHB pointed out, the hardest hit of new homebuilders were those in the "spec" business, the developers who erected cookie-cutter homes in subdivisions. Where once the "spec" industry ruled 80 percent of the new homes market, it now claims less than two-thirds.
That's how Rayner likes it: individualized houses. "My hope is this will look like the South Hill," Rayner says.
Between 2006 and 2009, the average price of homes nationwide plummeted almost 20 percent, to $211,000. With such affordable houses for sale, it is a buyers' market. In fact, December home sales shot up 20 percent over November's.
But as with everything, good and bad usually show up together, and the housing market is no exception. The great December home market, while presiding so thoroughly over the previous month, was actually down three percent from the year before.
For those wishing to sell their homes, things are not so good. It's even worse for those who can't afford their mortgages.
Nationwide, banks are predicting they'll take back more homes in 2011 than in any previous year. One million homes were foreclosed upon in 2010, and experts think 1.2 million will be lost this year.
In Spokane County, 1,040 houses were foreclosed upon last year, up slightly from 2009. About 3,000 foreclosures occurred in Kootenai County in 2010. Experts think the number of foreclosures will continue to rise locally, but at much a slower rate than has been seen recently.
But the foreclosures help to keep house prices down, which have fallen to just below $170,000 in Spokane and Kootenai counties.
Many in the industry also expect a dramatic decrease in people flipping houses, if only because homes are decreasing in value.
"I read things that say, 'Quit looking at your house as an investment. Look at it as something you'll be in for a number of years,'" says Jeff Fountain, the architect at Copeland. "You're not going to look at it as an income piece as you did four or five years ago."
Fountain, whose firm specializes in modestly sized, individually built homes, says homes may not be as big anymore, but what's lost in size will be regained in individuality.
"People ask, 'What's the return?' I don't mind that question, but a lot of times it's not the only question. … People look at a lot of houses in a lot of ways," he says. "If you're looking at getting out of a house in a few years, you're looking at a 'beige' house. It's boring because it still has to be marketable."
For many Americans, Fountain says, our houses say something about us and our lifestyles: how we live, what we drive, our relationship with our surroundings.
The future homeowners in more urban developments may appreciate a life that doesn't rely exclusively on the car. They won't pine for 10 acres all to themselves — they'd rather have the convenience of downtown within walking distance, or proximity to a large, wild park. Or they'll want a home that looks like no other. Or they'll want a home without the need for a lot of maintenance, a house that takes care of itself.
"On average, people in the U.S. don't use 40 percent of the space they have," says Kendall Yards' Hunnel. "A lot of times, it's the not the quantity of space, it's the quality of space."
Standing in one of the finished lofts in Kendall Yards, that feels very true. This particular loft — which is sold, but is being held until July when its owners will move in — has a wall of large windows facing west, and it seems like four stories tall. The kitchen and dining room meld into an office, and all of it overlooks a living room, which has 20-foot tall ceilings. Upstairs, there are two bedrooms, each with its own bathroom. The two-car garage is down a flight of stairs. And it's only 1,400 square feet.
It's huge — considering how small it is.
"We design efficient spaces," Hunnel says. "We're culminating a bunch of spaces into one large space. So it feels big, but has multiple functions."
Rayner, from Beacon Hills, says that in the future of American housing, developments — or even communities — will need to function on different levels, to be suitable for different people and lifestyles.
"Look across Spokane," he says. "I have the highest regard for Kendall Yards. They create communities. What we've done in Spokane for 40 years is create little socio-economic micro-spots. Every house looks alike. The people who buy them are the same age. … How do you create individuality and community?
"The South Hill significantly developed before planning, and look at it. I mean, it's beautiful. You have big homes, and small homes. Yeah, on the promontory points, you've got mansions. But you get a block away and ... it might be the carpenter's house.
"I've got some views up here that I'm sure people will put some incredible homes on. But they're going to be part of a community. And it isn't going to be a community of McMansions."