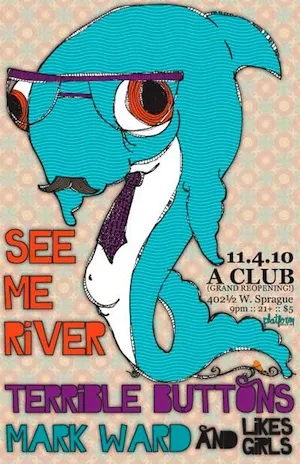 First, the poster: Jessica Spaccia gives us this googly-eyed, geriatric dolphin. Just look at him. His beak is shriveling! He's got cataracts! The poor little bastard. Someone mash up some crustaceans for him.

Spaccia gives us this little gem for tonight's grand re-opening of Aclub. See Me River, an unclassifiable band from the West Side. They mash up a little bit of everything — Americana, goth, psychedelia. Check out the video below for a taste. Spokane favorites Mark Ward, the Terrible Buttons and DJ Likes Girls come along to kick things off.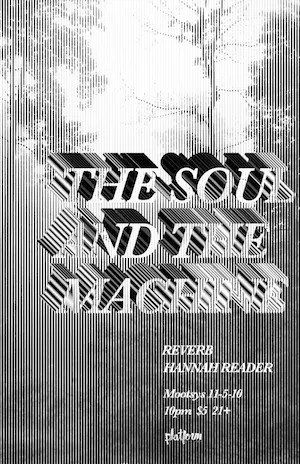 And the unofficial king of Spokane poster art, Nick Tibbets, whipped up this little ditty for tomorrow's show downstairs from Aclub, at Mootsy's, featuring the Soul and the Machine, Reverb and Hannah Reader. Tibbets' posters are always simple, clean — not a whole lot of BS. And that's why we like them.