click to enlarge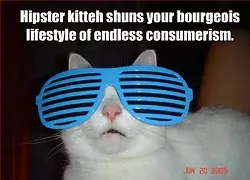 TONIGHT!
The coolest kids show ever brings its live show to town tonight! Yo Gabba Gabba! (which we wrote all about here) fuses indie rock with spacey, old-school design and hilarious celebrity cameos (check out videos of Elijah Wood online teaching his dance, "The Puppetmaster"). It sounds like a Flaming Lips concert for kids. Check out the YGG! crew (including the real DJ Lance Rock! Eeee!) tonight at INB Performing Arts Center at 7 pm. $20 - $45. All-ages (duh).

Things get steamy tonight at Aclub with Hot Club of Spokane — a local jazzy/swingy/folky group. 9 pm. $7. Gotta be 21.
SATURDAY!
There's nothing else that Spokane Valley-bred band Arcadia is Burning (who we profiled this week) wants more than to be your new favorite band. Check out their show for a variety of alternative/jazz/heartwarming ballads/witty stage banter tomorrow at the Cretin Hop. They play with Top Soil, Siege of Cranes, Bunkdoozy and Three Years. 6 pm. $5. All-ages.
You're gonna have to pay off a bouncer or do something illegal to get into 3OH!3's sold out show tomorrow night at the Knit. I had no idea who these kids were, but check out the song below. You've heard it a million times — but how? HOW DO I KNOW THE WORDS?! "Shoosh girl, shut your lips. Do the Helen Keller and talk with your hips." Get out of my head! 7 pm. Sold out. All-ages.


SUNDAY!
There's no way you didn't love the Refreshments. You had to. They were awesome. When that catchy band fizzled, frontman Roger Clyne started a new band: the Peacemakers. They'll be back to play the 'Kan on Sunday night at Aclub with Silver Treason. And they sound a hell of a lot like the Refreshments — check it out in the video below. 7 pm. $12. All-ages.
And last but SO NOT LEAST: sweet, sweet Glenn Danzig brings his crazy mesh shirts and snarling lips to town on Sunday. What could be more devilish? Going to pray at the alter of Danzig? On a SUNDAY? You sinner. He plays with Possessed and Marduk at the Knitting Factory. 6:30 pm. $25 - $28. All-ages.