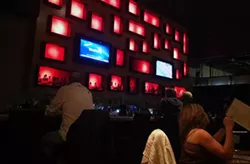 After a little more than two years in business, Savory Restaurant & Lounge on Spokane's lower South Hill has closed its doors.
While there may have been some rumors about the restaurant's fate, both patrons and employees found out about Savory's closing a little unexpectedly this weekend.
On Saturday evening at the restaurant, there was no indication that it was the final night. A sign posted on the front doors of the restaurant said it would be closed on Sunday because of the Super Bowl, but didn't indicate that the closing was final. Inside, cards on the tables advertised upcoming Valentine's Day "Sweetheart Specials."
Servers had not been told before they arrived at work for the day.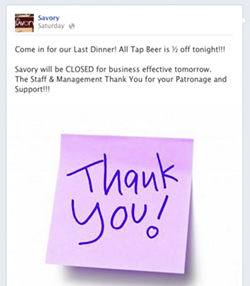 On Saturday evening, the restaurant also posted this notice on its Facebook page.
Comments in response to the announcement on Facebook included reactions of disappointment and surprise, as yet another locally-owned eatery joined a growing list of recently shuttered restaurants.
Savory owner Mike Schneider confirmed the business's closing in a call The Inlander made to the restaurant this morning.
"We are closed," Schneider says. "The business didn't support staying open — we couldn't get enough business. We had lot of great customers, but at the end of the day it didn't support the restaurant."
Schneider says Savory employed 30 people, and says the restaurant's staff shouldn't have been too surprised at the announcement.
The Inlander's Lisa Waananen contributed to this report.