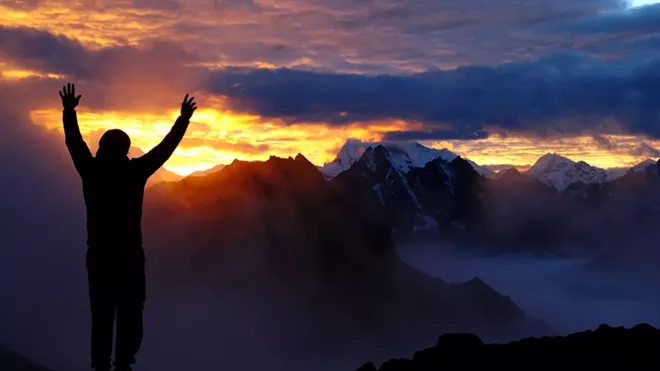 We're sticking a fork in January this week! Hard to believe. Let's send it out it style by hitting some of the killer events happing around the Inland Northwest, which you can of course find in our
event listings
and
Staff Picks
. Here are some highlights of the week ahead:
Monday, Jan. 25
FOOD & DRINK | Clover and the Rocket Market are teaming up for a
wine dinner
, with the vino all coming from Spain and selected by Rocket's Matt Dolan and Tristan Ohms of Vinea Imports. It's $69 a person, but between the top-notch grub and killer wine, you're making out like a bandit.
Tuesday, Jan. 26
THEATER | The
Book of Mormon
makes its triumphant return to Spokane with several shows in the week ahead, starting Tuesday. If you missed the chance to catch the riotously funny Broadway show poking fun at all things relating to the LDS Church and unsolicited religious missionaries, don't miss it this time.
Wednesday, Jan. 27
COMMUNITY | The nightmare of last summer's wildfire season doesn't seem that long ago, but it's never too early to prep for the next one. Join the discussion at
Washington Wildfires: Community Conversations
, going down at the Otis Orchards Library, where representatives from local fire districts, Fish & Wildlife, the Forest Service, Department of Natural Resources and faculty from local colleges and universities will all be on hand.
COMEDY | After a short break,
Drink 'n' Debate
is back and happening at the Big Dipper. Teams of comedians hit the stage to debate, and laugh about, subjects suggested by the audience.
Thursday, Jan. 28
FILM | The Bing hosts the
Backcountry Film Festival
, full of shorts about the beautiful outdoors and the insane things some athletes do out there.
Friday, Jan. 29
THEATER | The Spokane Civic Theatre presents
Sordid Lives
, an R-rated play that starts with this brilliant idea: "When Peggy, a good Christian woman, hits her head on the sink and bleeds to death after tripping over her lover's wooden legs in a motel room, chaos erupts in Winters, Texas." Sold!
FILM | The
Spokane International Film Festival
kicks off with a benefit screening of Vision Quest, the Spokane-shot film from 1985 that put a spotlight on the city, and high school wrestling. Star Matthew Modine and director Harold Becker will be on hand, along with Jess Walter, to introduce the flick. All proceeds go to INK Artspace. Here's a reminder of what the film has to offer:
Saturday, Jan. 31
FOOD & DRINK | You gotta love a birthday party, especially when it involves tasty brews.
River City Brewing is holding a third anniversary party
from 3-10 pm, with FolkInception playing at 5 pm.