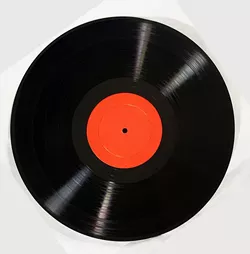 Consider it a salon with a soundtrack. A mix of passionate conversation about music and listening party, in which you can be some combination of DJ, lecturer and fan.
The Bartlett is hosting its first
Wax Club
Wednesday night, in which anyone and everyone is invited to bring some vinyl to the bar to play it for fellow guests and talk about what makes it so great.
Kent Ueland is the organizer of the thing; you might know him better as
The Holy Broke
. He says the inspiration came about "having a few too many drinks at The Observatory" and talking to bartender Anthony Burgess about how to make a vinyl night like the one that used to happen at Jones Radiator more personal and appealing than simply "bring a vinyl, get in line, it might get played."
For the Wax Club, there are a few "regulations" — mostly that you bring an album and have a couple of reasons you love it that you're willing to share, as well as two "fun facts."
Ueland says his inaugural contribution will be
Silver Tongued Devil
by Kris Kristofferson, "because I believe it's one of the strongest songwriting debuts ever." He's prepared to regale attendees with stories of Kristofferson landing a helicopter on Johnny Cash's lawn, and leaving a Rhodes Scholarship behind to pursue his musical dreams.
"That's sort of what I hope for out of this whole thing — people bring records they are truly passionate about, and are happy to argue with any naysayers that may pipe up (nicely of course)," Ueland says.
There aren't any limitations, he says, other than the Golden rule of "don't be a dick," as in don't make 30 people listen to one song that lasts a whole side of an album. "The beauty of vinyl is that there are hard limitations to how long they can be, so that helps," he says. "Be cool and let's talk tunes. That's all."
Down the line, the Wax Club might incorporate some themes, like "bring the record you think has the strongest last song" or "bring your favorite classic crooner," Ueland says. But for the time being, he just wants to let folks know that Wax Club is "open to all people, vinyl lovers or not. Just come hang and listen if that's your style. Learn something — I know I will!"
Wax Club is Wednesday, June 29, from 7-11pm. It's open to all ages, and participants get 20 percent off their bar tab. And it's free.