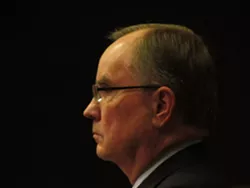 For a hearing involving the honesty or dishonesty of Spokane's mayor, last week's meeting of the ethics commission was anti-climactic.
Three out of the seven commission members didn't show up. Neither did the mayor.
Ultimately, the result of the hearing was inconclusive, with any major decisions deferred to a future meeting. Depending on whether it's allowed by the Open Public Meetings Act, the ethics commission members might discuss their thoughts on how to proceed in an "executive session" away from the eyes of the public.
But the most interesting part of the hearing was the debut of a never-before-seen defense for Mayor David Condon's statements at a Sept. 22 press conference. Condon argued through his attorney, Jim King, that Condon was interrupted before he could give a full answer to an
Inlander
reporter; therefore, in context, his statements were accurate.
Back then, Condon was announcing the sudden resignation of police Chief Frank Straub. The mayor claimed the reason he had asked for the chief's resignation was because of Straub's management style. But the media guessed there might be something more to it.
The ethics complaint homes in on this exchange:
Inlander Reporter Mitch Ryals: Were there any sexual harassment complaints lodged against Frank?

Mayor David Condon: No.

KHQ reporter Patrick Erickson: There have been rumors of an inappropriate relationship between the chief and Ms. Dugaw. Has that been brought up at all? Was that any part of this as well?

Condon: The, the critical thing is the management style. Uh, the, the uh, the issue, um, with the uh... that you speak of, that there has been no official filings of anything.
This exchange became relevant the instant public documents revealed that not only had former police spokeswoman Monique Cotton told Condon and City Administrator Theresa Sanders that Straub "grabbed her ass and tried to kiss her," she also wanted a transfer out of his department because of it.
King's defense of Condon hinges on two assertions:
In regards to Ryals' question, King argued that Condon meant that there were no
official
complaints lodged against Straub. Even now, King said, Cotton has not filed a sexual harassment complaint through the city's official channels.
And in regards to Erickson's question, King argued that Condon didn't know who Dugaw even
was.
He didn't know Dugaw was Monique Cotton's maiden name.
The mayor even submitted a declaration to that effect: "On September 22, 2015, I had no knowledge that Monique Cotton's maiden name was Dugaw,'" the mayor writes. King pointed out that Rick Eichstaedt, the attorney representing the National Organization for Women on the ethics complaint, hadn't provided any evidence to the contrary.
The trouble with these arguments, however, are the specific questions Condon was asked and the specific answers Condon gave.
Eichstaedt points out that Ryals didn't specify he was only asking for formal complaints — he was asking if there had been
any
sexual harassment complaints lodged. And clearly,
there had been
.
But Condon denied there had been any complaints with a flat "no."
Erickson's question, by contrast, was different: He wasn't asking about sexual harassment. He was asking if any issue regarding an inappropriate relationship between Cotton and the chief had been brought up at all. The city, according to the notes of SPD Lt. Joe Walker, had been made aware of rumors
regarding Cotton and the chief back in 2014
.
Eichstaedt pointed out that it sure didn't sound like Condon was unaware of whom Erickson was referring to, considering Condon referred to "the issue ... that you speak of."
Here's where the interruption defense came in.
Initially, King floated it as a mere possibility.
"A reporter interjected with a question," King said. "And it's difficult to tell whether the mayor was done with his answer or whether the question interrupted it as a response."
King went on to argue that Condon's
second
answer is a response to the reporter's first question. He argued Condon simply ignored Erickson's question, because he didn't know who he was talking about, and kept elaborating on Ryals' question.
As his defense went on, King spoke with this theory as an objective fact.
"This question regarding 'Dugaw' comes in as an interlude or an interruption of the response [to Ryals]," King argued. "He's not responding to [Erickson]"
But it's an explanation that's hard to square with the actual audio recording of the event. The recording gives no indication that Erickson interrupted Condon's answer, nor provides any evidence Condon had chosen to ignore Erickson's question.
In fact, at least a second and half passes from the time Condon finishes saying "no" and the time Erickson begins his question. But you should judge it for yourself: We embedded the audio recording of the crucial exchange in
this blog post
.
In the mayor's written defense, however, the interruption argument did not come up. However, he did argue that if the mayor
hadn't
said "no" to Ryals' question, and instead had said "no comment," the mayor would have actually been
less
honest and
less
transparent.
The information disseminated by Mayor Condon at the press conference was that Monique Cotton had not filed an official complaint with the City of Spokane. That was and remains true. NOW's fall back position, contrary to every established tenet of good government, is to insist that obfuscation rather than transparency must become the default position for any City employee. NOW argues that, instead of stating the truth, that Ms. Cotton had not filed any official complaint, the Mayor should simply have refuse to answer questions about Ms. Cotton. Transparency be damned.