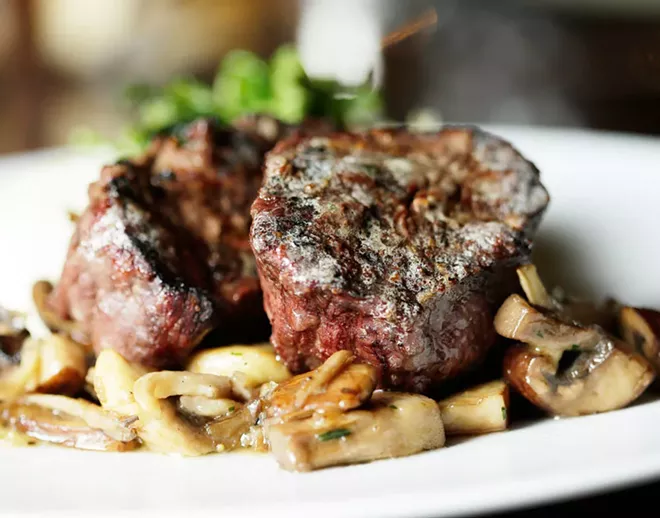 With the opening night of Inlander Restaurant week just hours away "It's like Valentine's Day for 10 days in a row," says Julie Holland, director of communications for Northern Quest Resort and Casino, where Masselow's is the signature restaurant. "We know we have to be on our game."

e checked in with Masselow's Chef Tanya Broesder to see how the calm before the storm was going. "We're ready," she said Thursday afternoon, adding that a lot of the final preparations have to do with prepping the waitstaff for what's to come.
Servers will meet lots of new people during the run of IRW, and even though it's sure to be busy, Broesder wants to maintain the quality of service diners expect from Masselow's. Finishing touches aside, the food's been in the works since early January.
"I've been working with my suppliers for the best beef tenderloin and salmon we can get," Broesder says. "The salmon was a huge hit last year, so we kept it on the menu for this year, too."
Night one is now in the books, with a busy weekend of dining out starting up tonight. You can
peruse the menus of the 100+ participating restaurants
to make your own plan. Here are some of the experiences
Inlander
team members had out on the town Thursday.
Ruins
Emily Walden, account executive
Rolling in toward the end of a busy opening night, Emily got a table right away — which is unusual, as Ruins does not take reservations and is busy on weekends year-round. She immediately took advantage of the
Drink Local
option — the Mr. Wednesday cocktail, featuring Dry Fly gin and fennel liqueur. "Yummy!"
And her group loved the raviolo al uovo: "The broth by itself was wonderful," says Emily, "but then you break the egg and mix in the creme fraiche and it turned into a whole new thing that was amazing. And the braised beef was to die for."
Nutella fans, you are on notice: One of Ruins' dessert choices is Nutella tiramisu.
Inland Pacific Kitchen
Tamara and Jer McGregor
"It's a gorgeous space, and there's no other restaurant in our region with an open kitchen like that," says Tamara. "All of the tables and the counter seats are positioned with full view of the entire kitchen, so watching the food preparation is part of the experience."
Their group of 12 watched Chef Arjuna Bull work his magic, and they even got a tour of the wine cellar. Of course their evening ended at Hogwash, the whiskey den in the basement.
"Between the food and the speakeasy, it felt a bit like we'd been transported to San Francisco or Seattle. This is definitely the place for those who crave adventurous cuisine."
Clinkerdagger
Jeanne Inman, account executive
You can't go wrong with Clinkerdagger, the longtime winner of the Best Fine Dining award in the
Inlander
's annual readers poll. And as you'd expect, they're offering prime rib on the IRW menu.
"Three of our four ordered the rock salt prime rib," Jeanne reports. "It was perfectly cooked — melt in your, with the fresh-grated horseradish."
If you want to try something different they have a Columbia River peppercorn steelhead option as an entrée. And of course they're offering burnt crème for dessert.
Iron Goat Taproom
Derek Harrison, editorial designer
Derek's a bit of a regular at Iron Goat's taproom, and when he heard they'd be participating in Inlander Restaurant Week, he knew where he'd be spending his first night out.
"You have to seat yourself and order at the counter," Derek says, "it is a brewery after all. But I couldn't pass up the chance to enjoy some of my favorite beers paired with a fine-dining experience."
Iron Goat has upped their food game with the addition of chef Lindsey Blair. Still, the team wasn't completely ready for what was to come.
"Last night, that was crazy," says Rita Vigil, bar manager at Iron Goat. "We ran out of stuff, but we're super-stoked and ready for tonight."
Derek loved the Pâté de Campagne, featuring pistachios and cherries served atop a salad with pickled onions. "It was the perfect start."
Entrees offer hearty fare, from bratwurst to beef cheeks, and you can finish it all off with a beer float — that's right, chocolate cherry stout or coconut porter poured over ice cream.
1898 Public House
Anne and Ted McGregor
The renovation to the old Spokane Country Clubhouse gives you that cozy lodge feel; the snow-covered fairways of the course below the dining room make it even more so. And Chef Tyler Schwenk is pumping some creative comfort food out of the kitchen.
Our group was particularly impressed with the sweet and spicy Vietnamese caramel chicken, packed with tons of flavor. I had the 12-hour braised short-ribs — paired with the rich gravy and horseradish mashed potatoes, it was the perfect end to another annoyingly cold day. At least we could see where golf will be taking place when things warm up around here!
Don't forget that all through Inlander Restaurant Week, if you post a mini-review with the hashtag
#IRWRaveReviews
, Sysco will donate five meals to the 2nd Harvest Food Bank.