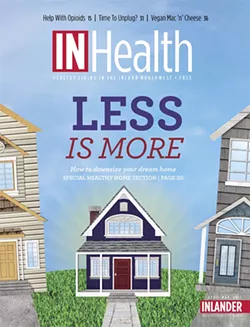 Look for our new issue this week!
It's finally spring and for many of us that means spring cleaning. Ever wonder what it would be like to have less stuff and less space to take care of? In the
new issue of InHealth
, we take a look at how local families are finding that living a full life can be easier in a smaller space, with less stuff.
After their family of five downsized to a much more compact home, Kathryn Picanco has no regrets. "Coming to the smaller house, everything seems so much more manageable," she says. "It's alleviated a lot of day-to-day stress and let us focus more on family and the kids, doing fun activities with them."
Getting a "glass half-full" attitude
Know a Debbie Downer? Are YOU a Debbie Downer?
New York Times
columnist Jane Brody takes aim at
the downsides of negative thinking
this week. "The extent to which we can generate positive emotions from even everyday activities can determine who flourishes and who doesn't. More than a sudden bonanza of good fortune, repeated brief moments of positive feelings can provide a buffer against stress and depression and foster both physical and mental health."
Among the steps she advocates for tamping down negative feelings: appreciating the world around you, fostering relationships, setting goals, and learning something new.
Negative becomes positive!
Here's a chance to turn a negative into a real positive: sign up for this Saturday's Negative Split races. You'll get some exercise, enjoy a post-race party and feel good that a portion of proceeds from the 5K, 10K or half marathon races will benefit
Spokane HOPE School
's programs and services for children with hearing loss.
Route starts and ends at Kendall Yards. Saturday, April 9 at 9 am.
Go here
for more info.