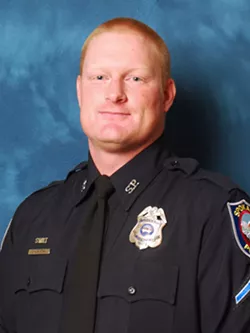 Spokane Police Officer Chris McMurtrey thought the issue was behind him. He was ashamed of an interaction he had with a man handcuffed in the back of his vehicle. He called the man "dumb shit" and a "punk," and appeared to goad the already agitated suspect, who chirped back at the officer.
He wrote a letter to his supervisors taking responsibility for his unprofessional demeanor and was put on desk duty.
Although he was not formally disciplined, McMurtrey was also removed from the SWAT team — a coveted role.
So when word about the interaction leaked out of the department, leading local blogger and police gadfly Brian Breen to file a public records request for the investigation, McMurtrey was, perhaps understandably, upset. He complained to SPD's Internal Affairs office, which then
opened an investigation to find the "leaker."
The four-month investigation, which included eight interviews and a scan of internal emails and printer logs, reveals the lengths to which the department is willing to go to root out those who air its dirty laundry — even if the information in question is a matter of public record. In this case, it appears, the "leaked" information is a matter of public record.
Everyone, including Bart Logue, Spokane's police ombudsman, denied leaking the information, and the investigation has been suspended. But the case raises several crucial questions about transparency and accountability.
"Not every police document is a public record," Assistant Chief Justin Lundgren says via email. "Those documents that are public record have a specific process that much be followed to ensure the record is released in accordance with Washington State law.
"The investigation centered around the manner in which the record was released."
For some, SPD's efforts are the latest in a string of moves that show a department unwilling to call out certain bad behavior on the part of its own personnel. Without clear guidelines for when and how to publicly release examples of officer misconduct, the department undermines other efforts to build public trust through transparency.
"You need to make sure employees are not making unauthorized leaks," says Spokane City Councilman Breean Beggs. "But you also need to make sure that information is online and your agency is transparent, so that nobody feels the need to leak. I'm a big supporter of putting all the IA investigations
back online
like they used to be. That would take care of the problem in this case."

WHERE THE PROBLEM STARTED
Before the spring of 2016, SPD posted nearly all internal investigations on its website. Those documents would include the kind of material released to Breen. They showed what officers were accused of, how the department investigated those accusations and what, if any, discipline officers faced.
Those materials have since been scrubbed from the website and replaced with
watered-down summaries
. Lundgren explained to the City Council earlier this year that the department had received complaints from witnesses and officers whose names appeared in the documents.
In February, Logue, the police ombudsman, discovered that the department failed to send his office 12 internal investigations — a move that Logue suggested "could indicate intent to willfully disregard SPD policy as well as the [Spokane Municipal Code]."
For Beggs, who has been critical of the department in the past, these incidents indicate a need to repost complete internal investigations online. An official policy directing the administration how to publicly release this information would help, too.
"The nice thing about that is if somebody is thinking about being an unauthorized leaker, they don't have a moral basis for doing it," he says.
INVESTIGATING THE OMBUDSMAN
Two internal investigators spell out the evidence pointing to Logue as the leaker. He, along with his assistant Luvimae Omana and Ombudsman Commissioner Ladd Smith, had access to the internal investigation. All three submitted letters denying that they leaked anything to Breen, the local blogger.
Logue had viewed the investigation into McMurtrey's demeanor prior to meeting with Breen on Jan. 13, 2017. He then met with Breen for lunch that day, and Breen submitted a public records request for the investigation later that afternoon.
Logue explains, and Breen confirms, that the information had already been leaked by the time the two men met.
"When I met with Logue, I knew more than he did about the case and tried to milk him for info," Breen writes via email.
Although Logue is a logical suspect given the circumstances, he says he's disappointed that his "statement wasn't given the same level of credibility" as the officers who were interviewed.
"Pressure and scrutiny is part of police oversight," Logue says. "The true test is whether you're going to stand up to that, and still say something when you see something that's not right. I'm resolved and committed to increased transparency with the police department."
He adds that this situation is a perfect example of the need to empower the ombudsman to write "
closing reports
." Currently, city law bars Logue from saying much about a case beyond a stamp of approval as timely, thorough and objective.
Councilman Beggs has proposed a change to the ombudsman ordinance that allows for such reports, which would likely need approval from the Spokane Police Guild. The city is set to begin negotiations with the union next week, Beggs says.
For Omana, who is Logue's assistant, another big takeaway is the department's focus on rooting out an internal leaker, rather than how to deal with misconduct identified through body camera footage. When the department originally investigated McMurtrey, the lack of an official body camera policy precluded administrators from handing down any formal discipline.
The department has since finalized its policy, but it still leaves unclear whether McMurtrey would face discipline.
"Those are things that we still have to iron out," Chief Craig Meidl has said in an earlier interview. "I think it will require clearer language. But if we were to negotiate over that piece, I probably still wouldn't have a body camera policy in place."

MOVING TOWARD TRANSPARENCY


Despite these recent examples, both Logue and Beggs say that SPD is showing significant efforts toward improving transparency.
Administrators regularly show up at community events and neighborhood council meetings. Coffee with a Cop events offer opportunities for the public to get to know the officers, and familiarize themselves with police work. There are also citizens' academies and the
Spokane Police Athletic League
.
The department publishes crime statistics, has released a study about its officers'
disproportionate contact with minority suspects
, and releases body camera footage of officer involved shootings without requests from the media.
"I think [Chief] Craig Meidl is committed to creating a progressive and transparent police department," Logue says.
But it's the "unforced errors," Beggs says, referring to SPD's recent handling of internal investigations, that tarnish any effort to progress.
"It wasn't like a true cover-up or anything," Beggs says of the McMurtrey cases. "They were trying to do what they thought was best, but it didn't turn out to be the best thing for the public — and for the department."
Mcmurtrey Leak IA by MitchRyals on Scribd