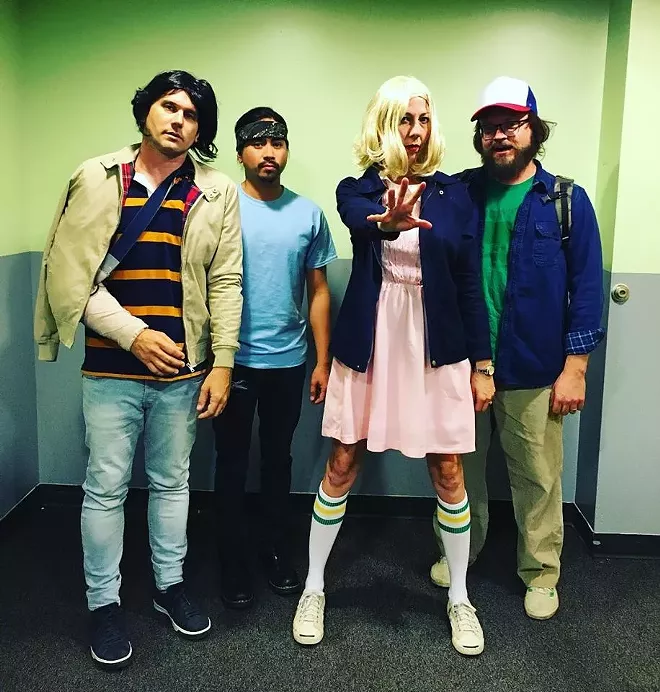 When
Silversun Pickups
frontman Brian Aubert came out on stage last night with his right arm in a sling, I really hoped it was part of his Halloween costume. The band dressed up in
Stranger Things
Halloween outfits — was his broken arm and overall look of death somehow part of it?
But then Aubert, in a raspy voice, told everyone that the universe didn't want him to be there at the Knitting Factory. He broke his arm a few days ago, he said. And even though he figured out a way to strum his guitar anyway, he now had the flu.
The band played a few of its hit songs and shut it down early.
Nobody could fault Aubert for his effort. It was immediately clear that he couldn't sing at anything close to full strength. At one point in the middle of the second song, nothing but air came from his voice, and he shook his head and stopped playing. He asked the audience if they even wanted him to play anymore. The packed crowd at the Knitting Factory enthusiastically expressed their support.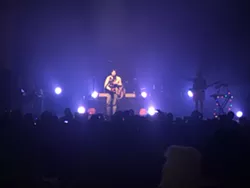 To end the night, they played "Panic Switch" and "Lazy Eye," both crowd favorites. The audience knew the words and filled in during the parts where Aubert would normally be screaming. It's hard to hear those songs live and
not
be into it, so overall it ended on a high note, albeit before 10 pm.
"Thank you Spokane, for being so supportive last night. we love you. happy halloween..." the band
wrote on Facebook today
.
Still, the whole thing was kind of a bummer. The Silversun Pickups show I saw in Seattle years ago was one of the best I've ever been to, and I was hoping they could rekindle some of that Tuesday night. You could tell the band was disappointed they couldn't put on a better performance for the Halloween crowd. They went all out for the
Stranger Things
theme — the words "Silversun Pickups" even appeared on the screens with the show's signature font. And there was supposed to be a costume contest.
The Knitting Factory says it isn't automatically giving refunds to ticket buyers, but people are welcome to reach out to
TicketWeb
if they want. After the show, Aubert promised they would reschedule another Spokane date.
"We'll be back. Thank you. I love you," Aubert said. "Sorry."