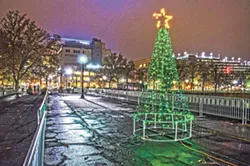 The Spokane Grand Tree Lighting festivities will return to Riverfront Park on Saturday after an extensive holiday.
Elisabeth Hooker, marketing and programming manager of the Downtown Spokane Partnership, excitedly explained that with the revamping of Riverfront Park and the grand opening of the new ice ribbon set for December 8th, it's the perfect time to bring back the event. It's just one of the
holiday events downtown this month
.
"A loss of sponsorship during the recession of the late 2000's put the event into retirement after 30 years in the park, but it's back this year," Hooker said, adding that there are 3,000 people interested in the event its Facebook page.
Saturday's festivities run from 4 p.m. to 8 p.m., with the tree lighting happening at 6 p.m. There will be dancing, a holiday singalong at 5 pm and a visit from a certain rotund jolly guy as well.
The 60-foot-tall douglas fir tree will be adorned from head to toe with the twinkling lights of the season, donated by Christmas Décor by Senske.