The progress in the region's culinary community never stops, with new and exciting developments in the form of innovative events, new restaurants and other food-related projects always popping up. Let's round up the latest in this week's installment of "Foodie Grab Bag."
Fans of Mac Daddy's Gourmet Grub food truck — known for offering many tasty variations on the American classic of mac 'n' cheese — can now get their fix of cheesey goodness year-round at a permanent location. The new
Mac Daddy's Gourmet Pub and Grill
opened in Mead's Fairwood Shopping Center, at 415 W. Hastings Rd., in late November. With a sports bar vibe, the new restaurant is open for lunch and through to the late night (also for breakfast on the weekends), and offers an expanded pub fare menu of burgers, sausages, appetizers and salads in addition to all that tasty mac.
We've written about the breadmaking mastery of local baker Shaun Thompson Duffy in the pages of the
Inlander
before (
here
and
here
). Now, Duffy is getting ready to open a retail bakery location in the South Perry District (in a long-vacant commercial building at 1026 E. Newark), and is asking the community for a little bit of
help on Kickstarter
campaign for $20,000 has less than two weeks left, and currently stands at just over $7,200 pledged.
"I have been trying to open this place for some time, and we finally got the zoning changed after a year and a half," Duffy recently told the
Inlander
.
Called
Culture Breads
, the spot is planning a soft opening in February, and will be home to a wood-fired oven and stone grain mill, the latter of which will be used to mill all the bakery's flour from grains grown on farms in the Palouse. The hyper-local operation will also share the space with a brewery called
Grain Shed Brewing
. Duffy's partners on the project are LINC Foods and Palouse Pint co-owner Joel Williamson, brewer Teddy Benson and Palouse Heritage Farms' Don Scheuerman. In addition to a traditional bakery and brewery, the space is also set to feature a café.
"I have contracted local farmers around the area to grow certain types of grain — all landrace and heritage grains — no modern wheat, which is very rare for a bakery to do, but I have access to one of the largest grain growing regions in the world: the Palouse," Duffy says. "Not many bakers can say the same."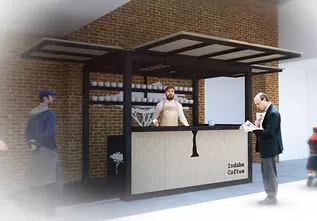 This week, we also caught the latest preview of what
Indaba Coffee Roasters'
newest location, currently being constructed in the west end of Kendall Yards, is
going to look like
. Local firm
Uptic Studios
recently posted images of an outdoor pop-up counter, dubbed the "Indaba Pod," that is planned for the roasters' new home in a building being constructed now, called
Nettleton Corners
. The commercial hub is set to be the home of a few other food-related businesses, including a donut shop called
Hello Sugar
and a restaurant called
Park Lodge
.
Also soon coming to the growing neighborhood is a new sushi restaurant called
Umi Sushi
, to be located in the same building as the newly-opened
Maryhill Winery Tasting Room
.
IN THIS WEEK'S ISSUE

As the holiday treating and eating season gets into full swing, make sure to stop by Hotel RL in downtown Spokane to see corporate executive chef Ricky Webster and team's spectacular
life-size gingerbread house
, open for public viewing daily through the New Year. Read all about the marvelous feat of sugary architecture in this week's issue and
online
.
Also find out when and where to treat yourself to some holiday-friendly suds, courtesy of local and regional breweries and bars, in this week's round-up of
"DecemBeer" events
coming up in the next few weeks.
A version of this information originally appeared in our weekly Entrée food newsletter; sign up to get it delivered directly to your inbox here. Find the previous edition of the Entrée blog here.