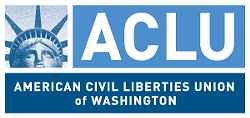 A Latino victim of a car accident was detained by a Spokane police officer for apparently no other reason than to check his immigration status. Gabriel Gomez sued the officer and the city for violating his constitutional rights and now the city has settled his case and agreed to change its policies.
In the settlement announced this week, Spokane Police Department has agreed to clarify its internal policy to say that officers "shall not contact, question, delay, detain or arrest an individual because s/he is suspected of violating immigration laws."
Matt Adams, the legal director of the Northwest Immigrant Rights Project and an attorney who worked on the case, does not believe this was an isolated incident. He says he's now reaching out to other cities to make sure they know that local police cannot detain people just to check their immigration status.
"This happened with a city officer, but there's the Spokane Valley police and the county Sheriff's Office," Adams says. "I think there's policies there that need to be revisited."
(The City of Spokane Valley contracts with the Sheriff's Office for police services.)
"We clearly made a mistake," SPD Chief Craig Meidl says. "We own it and have taken steps to make sure it doesn't happen again."
Gomez was on his way to church in August 2014 when a minivan T-boned his pickup truck on North Crestline Street. The Spokane police officer who responded to the crash scene, Mylissa Coleman, cited the other driver, who was white, and allowed him to leave, according to court documents.
But Coleman did not return Gomez's driver's license, effectively detaining him. Meanwhile, she called (or directed another officer to call) U.S. Border Patrol and asked if they had "any interest" in Gomez.
"The officer didn't even even deign to ask him questions," Adams says. "Based only on her assumptions, she immediately reached out to Border Patrol. And even more outrageous, is [Mr. Gomez] was a victim in an accident, and she's not concerned about that. She acted only on her prejudices."
As it turned out, Gomez is in the country illegally.
Border Patrol agents arrested Gomez from the accident scene, and he was then transported to the Northwest Detention Center in Tacoma, where he was detained for about a month, Adams says. Gomez, backed by the ACLU of Washington and the Northwest Immigrant Rights Project, filed a lawsuit against Coleman and the city last August.
This week, the ACLU announced the case has settled. As part of that deal, SPD has agreed to update its policy manual and train its officers on the changes. The city will also pay Gomez $49,000 in damages, according to the settlement agreement.
Although local police officers cannot detain people based purely on the suspicion that they are in the country illegally, they are also not required to ignore that fact if it comes out during an investigation, Meidl clarifies.
"We know we have cartel members from Mexico who are here illegally," Meidl says. "If you're investigating them for heroin and find out in the course of that investigation that they're undocumented, you're not required to turn a blind eye."
The policy changes come after the city of Spokane codified a piece of SPD's internal policy in 2014, which directed officers not to ask about people's immigration status. The reason was so that people could call 911 for help and not worry about getting deported. That law is central to the debate over whether or not Spokane is a
sanctuary city
.
"I have lived in this community for many years, and to suddenly have the police turn against me after being a victim in the accident really turned my life upside down," Gomez says in a statement released by the ACLU. "I am happy for this settlement. I want to be able to trust the police."
Gomez is currently out of custody and has submitted an application for legal permanent residency in the U.S., Adams says. But that process can sometimes drag on for years.
"I don't think this is a one-time thing," Adams says. "That's why in the settlement we insisted on more than just money. We are grateful that Spokane recognized the problem and agreed to work with us."
A previous version of this article identified Matt Adams as an ACLU attorney. Adams is the legal director for the Northwest Immigrant Rights Project, not an ACLU attorney.