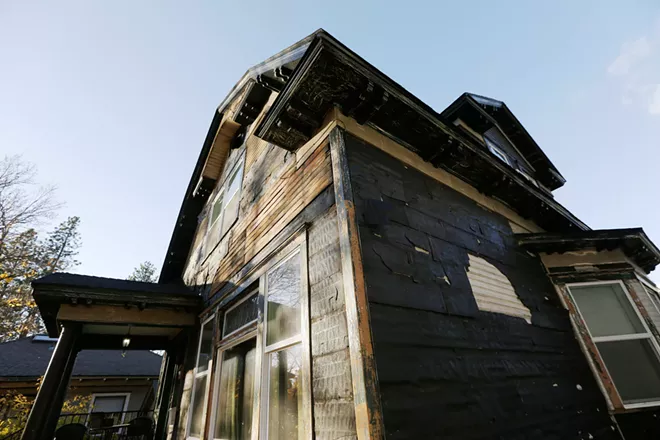 A
t the Inlander,
we don't measure success in clicks. Reporters are generally clueless about how many views our stories receive online, because we know stories with the most profound impact on the local community often don't go viral.
Still, we'll admit that sometimes at the end of the year we, like journalists everywhere, can get curious which articles did well on the web. It can be valuable as an indicator into what is most meaningful to readers. Other times, it can make a journalist cringe — "That story was the most popular? Really?"
Thankfully, Inlander readers know good journalism when they see it. None of our top news stories, those you read the most online in 2021, were clickbait throwaways. No, this Top 10 list consists of major local news scoops, in-depth coverage of undercovered topics, and investigations into wrongdoing. It shows that, like us, you value real news. And we plan on giving that to you for years to come.

— WILSON CRISCIONE, news editor
1. One of Spokane's biggest roofing contractors skipped the vast majority of city-mandated roofing inspections for over a decade — and almost nobody noticed (Nov. 4)
Perrenoud Roofing had a good word-of-mouth reputation in Spokane, as roofing companies go.
But then Spokane's Danielle Martini, in the midst of a dispute with the roofing company over damage to her property, made the discovery: Not only had Perrenoud never scheduled the legally mandated inspections of her property, they hadn't scheduled inspections for 1,300 other properties in Spokane either. That included roofs ranging from North Bowl to a City of Spokane Parks Department building to even a house previously owned by former Mayor David Condon. The Inlander later discovered 300 additional Spokane County properties also had never been inspected.
The City of Spokane told Martini that they plan to propose reforms to their inspection process, but two months later, no specific reforms have been proposed.
"What a shit show," Martini says in an email. "I am pretty angry about this."
At least her roof, a few days after the Inlander article was released, finally got inspected. (DW)
2. 'A sinking ship': As more staff flee, City of Spokane has no homeless response team (Oct. 4)
One of the biggest stories in the city of Spokane this year was the massive exodus of staffers leaving Spokane's Community, Housing and Human Services department. By October, the city's entire homelessness team had resigned, retired or transferred to another department.
And former City Council President Ben Stuckart was horrified, calling for the city to scramble to hire consultants to help finish grant applications the city risked losing.
"There's nobody there. This is not a 'cry wolf [situation].' This is not an exaggeration," Stuckart told the Inlander. "Literally, our homeless dollars are at risk. Our system will collapse."
But come the end of the year, disaster has been averted. The city hired part-time employees to help finish the grant applications, picked a new CHHS director and tasked the city's chief innovation & technology officer, Eric Finch, with running the Neighborhood Housing and Human Services division. And Stuckart, it turns out, is a big fan of how Finch has been running things.
"Eric Finch is a game changer," Stuckart says. (DW)
3. A Native American says she shot her alleged rapist in self-defense. Federal prosecutors charged her with murder (Feb. 25)
When Maddesyn George, a member of the Confederated Tribes of the Colville Reservation, shot and killed Kristopher Graber in July 2020, she told police she was acting in self-defense. The night before, she said Graber had raped her before she left with his drugs, money and the gun that she later used to shoot him as he confronted her through a car window.
Federal prosecutors charged her with murder anyway, dismissing the self-defense claims. Months after the Inlander first detailed the case, it caught national attention from those who felt the government was unfairly going after George.
George eventually pleaded guilty to manslaughter and possession of methamphetamine and was sentenced to more than six years in prison — a far lighter sentence than prosecutors had sought. George's mother, Jody George, told the Inlander she was relieved when she heard the sentence.
"We're thinking she should be home by Christmas of 2025," Jody George says. (WC)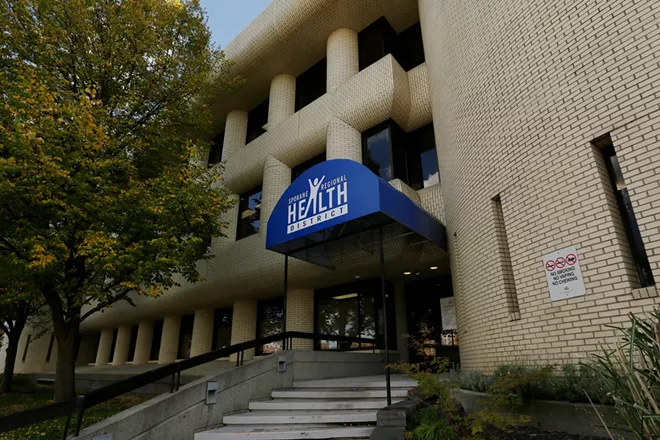 4. Spokane health district fires two leaders heavily involved in pandemic response (Dec. 6)
As the pandemic has pushed the dedicated staff of the Spokane Regional Health District to their limits, internal issues between employees and leadership continued to worsen this year, and our readers were paying attention.
In October, we reported how dozens of leaders had left the agency over the past two years. We also shared how staff who raised concerns about a potentially dangerous isolation facility were told not to list those concerns in emails. Why? Because it might show up in a public records request and make the news. Later that month, we summarized former health officer Dr. Bob Lutz's claim against the district demanding $1.4 million and his job back. As precursor to a lawsuit, Lutz's claim called his 2020 firing political.
In December, we reported how staff felt blindsided by the new budget's further cuts to management. Soon after, we reported how Administrative Officer Amelia Clark called the cops on her staff, asking an officer to come take her crime report in person after recordings of an internal staff meeting about the cuts were shared with the Inlander. (SW)
Inslee slowly eased off the brakes on evictions, first with a still-restrictive "eviction moratorium bridge," and finally, at the end of October, by eliminating the eviction moratorium entirely.

tweet this
5. Washington state owes a big debt to its eviction moratorium. But now the bill is coming due (Feb. 25)
When the COVID-19 pandemic hit, Gov. Jay Inslee had a very good reason to ban landlords from carrying out the vast majority of evictions in Washington: Evictions were always brutal on tenants, but with COVID spreading rapidly through homeless shelters, now they could actually cost lives.
But there was a cost: The eviction moratorium created a perverse incentive, encouraging landlords to sell single-family homes they'd been renting out to those who wanted to turn them into owner-occupied housing. There were few evictions, yes, but the rental market was frozen – it was nearly impossible to find a house.

Over the course of the year, Inslee slowly eased off the brakes on evictions, first with a still-restrictive "eviction moratorium bridge," and finally, at the end of October, by eliminating the eviction moratorium entirely. By then, however, there were a number of additional hoops landlords had to jump through.
The feared wave of evictions didn't come, but the rental market hasn't thawed either. And Spokane, in particular, saw one of the sharpest rent increases in the nation this fall. (DW)
6. A year and a half after opening its Spokane Valley timber factory, Katerra suddenly shuts its doors (June 10)
When Katerra was preparing to build its timber factory in Spokane Valley in 2017, the company bragged that using tech-style vertical integration would improve the building process and make projects more affordable. The idea was that Katerra, through its various locations, would provide a one-stop shop, freeing customers from hiring the many contractors usually needed for projects and supplies.
The Spokane Valley factory opened in late 2019 with great fanfare and the largest capacity to produce cross-laminated timber, or CLT, in North America. The material has been lauded for its environmental sustainability and beauty.
But it appears the tech-inspired approach led to an epic failure. Katerra's bankruptcy "wiped out nearly $3 billion in investor money, making it one of the best-funded U.S. startups ever to go bankrupt," according to the Wall Street Journal.
On June 1, Katerra abruptly fired most of its employees — 55 in Spokane Valley, and another 117 in Seattle.
Mercer International bought the Spokane Valley factory in August and renamed it Mercer Mass Timber, with plans to restart CLT production by early 2022. (SW)
7. Spokane Public Schools pays $150k to family of first-grader held in isolation room for nearly 5 hours (Oct. 25)
For years, we covered the controversial use of isolation and restraint in Spokane Public Schools. But it wasn't until 2021 that public records obtained by the
Inlander
revealed just how egregious some prior uses of isolation were. One such case occurred in September 2018, when a 6-year-old child at Ridgeview Elementary was locked in a so-called "safe room" for nearly five hours after he had tried to hit and kick staff members.
The school is supposed to let children out of isolation the moment they no longer pose a threat, but in this case, the principal kept the child locked in the room for the entire day, even after the child's grandfather arrived to pick him up.
Spokane Public Schools later agreed to a $150,000 settlement. The principal at the school was investigated but ultimately kept her job. The district, meanwhile, agreed before this school year to eliminate isolation rooms in each of its schools. (WC)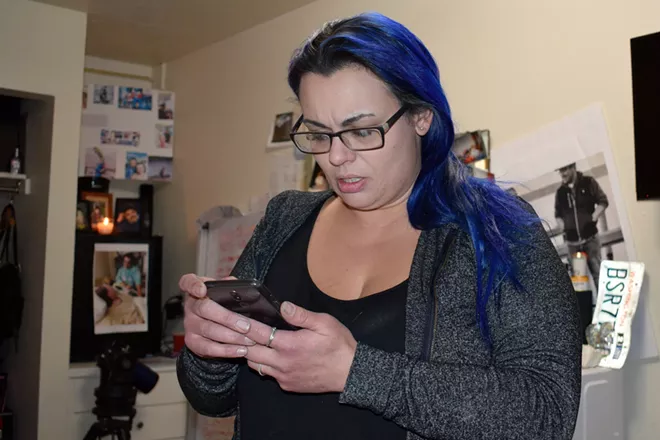 8. As the story of a murdered gay Newport teen goes viral on TikTok, authorities still haven't figured out a motive (April 22)
Last year, the
Inlander
wrote an in-depth story on the murder of Jason Fox, a gay teenager in Newport. In September 2020, Fox met up with some people at a ranch near Newport, but after that night, nobody ever heard from Fox again. His body was buried at the ranch with his hands behind his back. Several people who knew Jason were charged in connection with the murder.
As we wrote in April, Jason's mother Pepper Fox used social media, especially TikTok, to draw national attention to what happened. Her own videos have gone viral, as have those of other prominent TikTok posters with millions of followers who have used the platform to share Jason's story.
But despite all of the national attention, Pepper Fox remains frustrated that the Pend Oreille County Sheriff's Office hasn't charged anyone with a hate crime. (WC)
9. A map of unpaid city utility bills shows just how much northeast Spokane is suffering right now (Feb. 26)
It wasn't just rent that Spokane residents were struggling to pay in the midst of the pandemic. In February, we released a story focusing on a heat map of where Spokane households had the most unpaid water, sewer or garbage bills. It showed the unsurprising but stark divide between low-income neighborhoods like Hillyard, West Central and East Central — which glowed red with unpaid utilities — and the upper income South Hill, which was mostly untouched. It also showed how much
northwest
Spokane had been struggling.
Today, Public Works Director Marlene Feist says the city of Spokane has extended its moratorium on city utility shut-offs until at least March 2022.
"We have about 1,500 customers who have not been able to pay for the entire pandemic period," Feist says. "It's those customers I'm worried about. Their balances are becoming daunting for a family."
Low-income people who qualify for rental assistance, she says, can qualify for funding to help pay outstanding utility bills. And SNAP is ready to launch a new federally funded program to offer further assistance with utilities in January. (DW)
10. A top state health official was fired over a personal email targeting the Spokane Regional Health District for ousting its health officer (July 1)
As we have covered extensively for the last year, the decision by Spokane Regional Health District administrator Amelia Clark to get rid of health officer Bob Lutz has had serious ramifications both inside the health district and for the community. But the impact didn't end there.
When she heard the news, Erika Henry, then the assistant secretary for emergency preparedness and response for the Washington Department of Health, fired off an email to the Spokane Board of Health that was extremely critical of the decision to fire Lutz. And Henry took aim at Clark specifically.
"You let an insecure weakling of a leader strong-arm you into ousting him based on vague claims of what... personality conflict?" Henry's email began. "Tell her to grow up and do her job."
Henry ended up being fired over the email. We broke the news of Henry's firing, which she argues raises questions over her right to free speech. Our story also provides insight into the relationship between the local health district and the state health department, and how major players like Clark and health board members wield their power. (WC) ♦
---
OTHER TOP STORIES OF THE YEAR
Eastern State Hospital dismisses domestic violence before murder (May 20)
In the spring, a nurse at Eastern State Hospital was accused of murdering a coworker he was dating and stabbing her daughter nearly to death. We uncovered how the hospital ignored previous allegations of domestic violence by the nurse, and months later, top leadership at Eastern State, including the CEO, resigned over the controversy. (WC)
Spokane County deputies arrest innocent man in bar killing as real killer walks free (Jan. 28)
An Army veteran was killed outside Ichabod's East bar, and deputies arrested a man who looked like the suspect. Only it was the wrong man. Our January cover story delved into how the mistake was made and why the real killer likely got away with it. (WC)
Washington knowingly fails mentally ill suspects (Aug. 12)
Six years after a federal court found Washington was taking far too long to admit criminal defendants to state hospitals for mental health evaluations and treatment, the state is still unable to complete assessments in a timely manner. As chance would have it, an attempted murder case in Spokane County has dragged on without a resolution for the same amount of time, with similar delays slowing it down. (SW)
Delta wreaks havoc on hospitals (Sept. 23)
As the delta variant sent more people to Inland Northwest hospitals than any other wave of the pandemic, health resources were pushed to their breaking points. As protesters claimed doctors were lying about the seriousness of the situation, which by its very nature prevented people from "seeing for themselves," we gained ICU access to show the true costs as people spent their dying days isolated and surrounded by strangers. (SW)
As Afghanistan falls to the Taliban, Spokanites try, mostly in vain, to rescue their Afghan friends and family (Sept. 9)
The Inlander followed one Afghan man, whose work for the United States had put him in jeopardy, as he tried and ultimately failed to escape Afghanistan before the U.S. military pulled out in August. It's a story of both the ugliness of a failed war and the cruelty of a callous bureaucracy (DW)
North Idaho's right-wing Redoubt News is more than just a website that shamed an alleged rape victim (Aug. 19)
Redoubt News, a website in North Idaho, had already achieved a kind of crass infamy before an Idaho state representative got into ethics trouble by sharing an article that outed and mocked an alleged rape victim of former state Rep. Aaron von Ehlinger. The Inlander dug deeper into Sharon Dovale, the site's co-owner and self-proclaimed "Patriot Journalist." That included talking with Dovale's daughter about the nuanced and complicated relationship she's had with her mother and the world of the Idaho Far Right. (DW) ♦