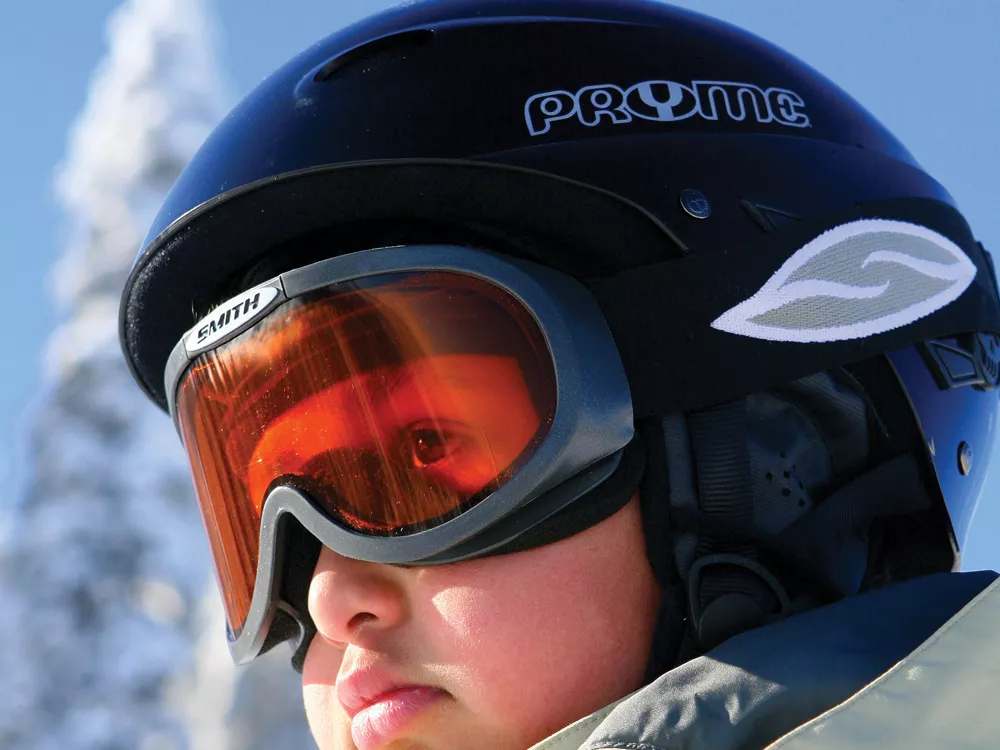 In skiing, as with any other high-speed sport, wearing a helmet is important to avoid injury. "Pretty much anything faster than the speed of walking, you should have a helmet when you're around rocks and trees and stuff like that," says Mountain Goat Outfitters manager Shane Collins. "And obviously the terrain — if you're on hard-packed snow, obviously if you fall into that, then you're going to want some sort of protection over your face and head as well."
But Collins says that not many people who do a lot of downhill skiing use helmets.
"It's more of the park guys and people who are doing a little bit more harder things," he says. "If you're talking about a more advanced skier doing easy start-up slopes down, then the chances of falling or running into anything are slim. I'm not saying that somebody should do that and somebody should never do that, but it happens a lot."
There are many different ski helmets but choosing one is based on personal preference. "Fitting is the biggest issue for ski helmets," Collins says. "Some people are going to need them a little bit more loose, some people need them super-tight, depending on the type of skiing that they're going to be doing."
Then there are the loads of features to choose from, like ventilation, build-in headphones, and design. Despite all the options, Collins says, all ski helmets have the same safety requirements. So find one that suits your style and stay safe when you ski.

Welcome to Snowlander, Vol. II
Every year at this time, it's a guessing game as to when we might start skiing. We're always hopeful of a Thanksgiving opening, but we know that many years December is the first month for sliding on snow.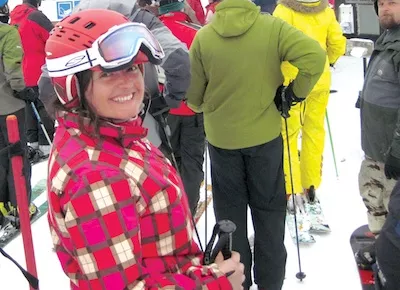 I can't believe it's already November. It seems like someone hit the fast-forward button through October. As I write this, all of the ski areas are reporting snowfall, ski movie premiers are in full swing and many of the ski swaps have come and gone. Now we wait. We wait for snow and opening day announcements. If you're like me, I'm sure you still have a list of tasks to complete to be ready for opening day. Take the time now to get those skis waxed, or scrape the summer wax off so that first chair doesn't catch you by surprise.
Since launching the new Snowlander section back in October, we've received a lot of feedback and hope to receive more. If you feel like there's a story that should be covered, a picture that should be printed or something humorous you'd like to share, please send it my way. We love hearing from fellow ski junkies and getting a different perspective. Make sure you take the time to 'Like' our fan page (Facebook.com/SnowlanderNW). This is where you can find the latest on all things related to snow, interact with fellow riders, post pictures, videos and just generally share your stoke for winter. We'll also have several giveaways that we'll announce through our Facebook page throughout the winter.
Just imagine, we could be skiing in two weeks!
Jen Forsyth
Snowlander Editor
[email protected]