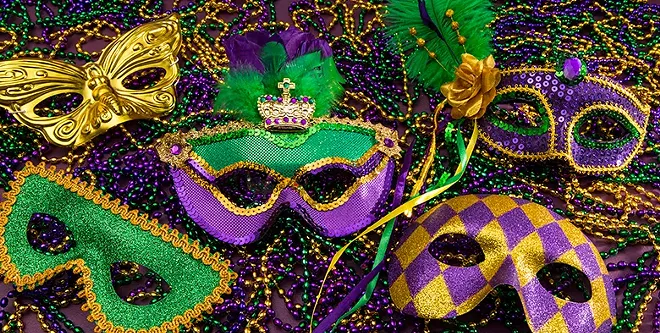 It's Fat Tuesday, the official kickoff for Mardi Gras season, and while we're obviously nowhere near the Louisiana Bayou, you can get at least a little of that traditional flavor going here in the Inland Northwest. Here are a few options for your celebratory consideration:
• The Hop is hosting a
Mardi Gras Party
with tunes delivered by DJ F$LON.
• While not strictly a Fat Tuesday thing, a little jazz music seems appropriate, and you can catch
An Evening of Jazz
from the Ferris High School jazz bands at Central Lutheran Church tonight for free.
•
Zola
is celebrating Fat Tuesday with a show featuring their regular Tuesday entertainment, The Bucket List.
• Celtic and Cajun tunes share some musical heritage, and if you're in Coeur d'Alene tonight, check out
Arvid Lundin and Deep Roots
at Kelly's Irish Pub. I'm sure there will be a Mardi Gras spirit to go with the Guinness.
• Litz's Bar is having a
Mardi Gras party
featuring the band VooDoo Church, along with housemade gumbo, jambalaya and red beans and rice all day. This sounds like the place to be to me.
•
Bon Bon
in the Garland is having jazz tunes all night and a special cocktail menu full of Mardi Gras faves and fancy drinks.
• The
Jackson St. Bar
is having a Mardi Gras throwdown with DJ Dave.
• No-Li Brewhouse is hosting a
Fat Brewsday Tuesday
, and is serving up a special Cherry Cordial quaff from 5:30-7:30 pm.
• Yelp Spokane is hosting a
Mardi Gras Happy Hour
at the new Bartlett bar, featuring a French 75 cocktail, daiquiris and Cajun-spiced popcorn. The fun starts at 5 pm, and you can stick around for the Bartlett's Open Mic night afterward.
Know of any more Fat Tuesday events around town? Help your fellow party-seekers out and throw them in the comments! Now here's some tunes to get you in the mood: