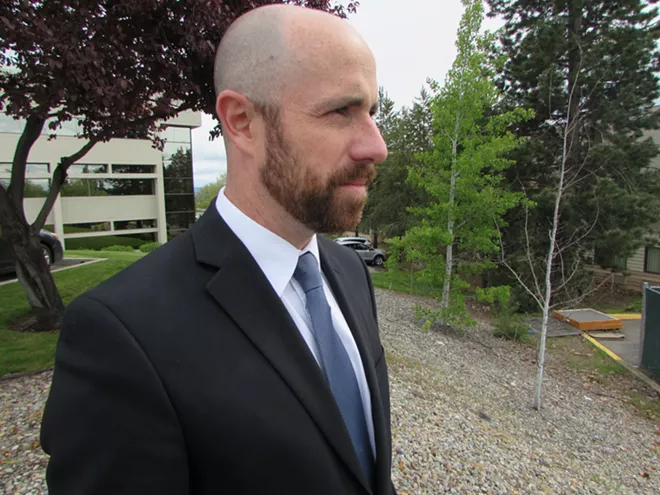 Toward the end of my interview with Luke Malek for this
week's story
on the comparatively moderate Idaho Republican's clash with the Idaho Freedom Foundation, I asked a question that may seem like it came out of the blue to a reader who hasn't been paying attention to North Idaho Politics:
"Are you worried about
Sharia law
?"
But this wasn't just a random oddball question. Malek's fellow Rep. Vito Barbieri told
The Inlander
that there's
no question
that Islamic law is a "threat" to Idaho.
"Islam is at the door," Barbieri wrote on his Facebook page. "But it isn't knocking."
And the first bill proposed by freshman Rep. Eric Redman (R-Post Falls) aimed to ban recognition of Sharia law in Idaho courts. The bill, according to John Rusche, D-Lewiston, including documents showing "severed hands and calling] the Prophet Mohammed a pedophile."
But Malek's views show that he's a different sort of Republican from his peers.
"
No,
I'm not. I mean, it's a —I'm not worried about it," Malek says. "I mean, I'm worried about
suicide
. If you want to worry about Idahoans dying, due to—? I mean, 340, I think is what we've lost last year? We are on the heels of an epidemic in the state of Idaho. If
loss
is life is our concern we should be laser-focused on suicide and mental health."
The Inlander
wrote about
rural Idaho's struggling mental health care system last year.
Idaho had one of the highest suicide rates in the nation, and until 2012, didn't even have a suicide hotline.
"Now we're maintaining that hotline, and we passed legislation this year — another great example of what we got done this year — [for] suicide prevention," Malek says. "That's a database program we're putting in place for the Department of Health and Welfare."
He has other high priorities on his agenda, too, none of which concern Islamic law.
"Well, I don't know if If I do go back next year," Malek says. "But if I do go back next year, education is going to stay right at the top. And making sure we come up with a good Idaho-based solution for covering 80,000 people who don't have health insurance."