Help send Spokane chef Jeremy Hansen to Puerto Rico.
This Friday, the chef-owner of several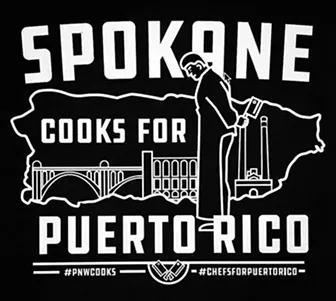 Spokane restaurants — Santé Restaurant & Charcuterie, Inland Pacific Kitchen, Hogwash Whiskey Den, Common Crumb Bakery and two forthcoming spots in the Ridpath — and his team are hosting a
fundraiser dinner
(see more details and how to make reservations below) to support continuing, widespread efforts to support residents of the U.S. territory, many whom are still severely suffering after being devastated by Hurricane Maria last month.
Specifically, Hansen and a small team of professionals in the local restaurant industry are traveling to do what they do best: cook. For most of next month, the team will join efforts led by internationally known chef José Andrés, whose
World Central Kitchen
has been cooking meals for the thousands of Puerto Ricans still lacking critical aid — including food and water — all across the island. Read more about World Central Kitchen's ongoing aid efforts over the past month
here
.
"We decided to support this cause because feeding people is what we do for a living," Hansen says. "I don't think the government is giving the help it needs, so I will. …We have always been people to help those in need if possible, and it is something I'd do for the rest of my life if given the opportunity. And now that I do, I'm taking it. We are busy, but not busy enough to sit back and just watch a whole island of people suffer."
Money raised from the dinner and any other donations will mostly be used to help World Central Kitchen purchase needed supplies, Hansen says, and to distribute meals across the island. Flights and lodging for Hansen and his team have already been covered; once there, they'll all donate their time and skills in the kitchen.
"They are feeding tens of thousands a day, so our funds will be minuscule compared to what they need, but it will help," he says.
As of this writing, Hansen tells us there are about 50 tickets left to Friday's family-style Puerto Rican steak dinner at the Washington Cracker Co. Building (304 W. Pacific), where Inland Pacific Kitchen is located. The cost is a suggested $100 minimum donation, or $1,000 for a table of 10. Hansen and his wife, Kate, hope to reach a fundraising goal of $20,000.
To reserve a spot, call event partner Pura Vida Recovery at 703-7907. Friday's dinner begins with a wine reception at 6:15 pm, with table service beginning at 7. Other local sponsors of the dinner include its host venue, Overbluff Cellars, Black Label Brewing Co., Spiceologist and Hansen's Common Crumb Bakery.
Hansen says he hopes that even after the dinner wraps up, people in Spokane remember the dire need for continued support of recovery efforts on the island.
"I will be posting and sending videos so that we do not forget what's going on in Puerto Rico, especially with all the distractions coming from the White House," he says. "Hopefully we can draw in more [funds] as we're gone."
Follow Hansen and his team's work with World Central Kitchen next month on
Facebook
.
IN THIS WEEK'S ISSUE


Pick up the latest edition of the
Inlander
or
go online
to find all the latest news centering around local dining and drink. This week's issue includes stories on two recently opened spots in the region to grab a bite:
Compass Breakfast Wagon
on Spokane's South Hill, and
Beet and Basil
in Sandpoint.

A version of this information originally appeared in our weekly Entrée food newsletter; sign up to get it delivered directly to your inbox here. Find last week's edition of the Entrée blog here.