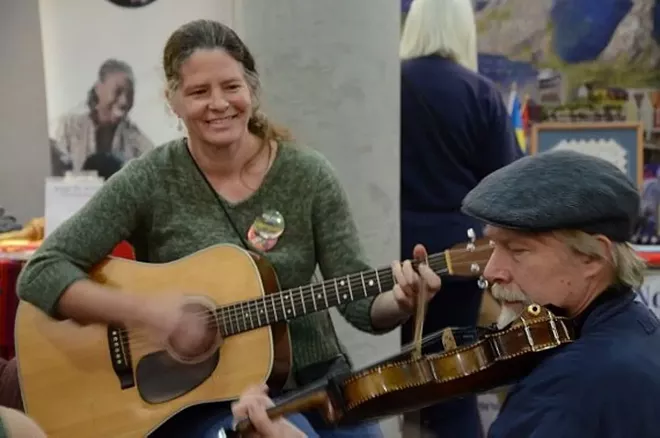 Never mind those reports of snow in our forecast, just throw on a coat and get out there to enjoy some awesome things going down around town. Peruse our
event listings
and
Staff Picks
on the regular; here are some goodies I found for the week ahead:
Monday, Nov. 6
MUSIC | How about a little free show on a Monday night?
Collapsing Stars
is a Minnesota-based roots-music crew swinging by Hotel RL for a free hour-long set starting at 6 pm. Here's a taste:
Tuesday, Nov. 7
COMMUNITY | Native American Heritage Month continues with a discussion at Shadle Library on
Indigenous Columbia Plateau Homelands: Histories and Lives
. It's free at 6:30 and should be a really interesting bit of local history that's too often ignored.
FILM | I know a bunch of you grew up watching pro wrestling (and maybe still do), so you'll want to hit the Regal Cinemas in the region for a special screening of
The Price of Fame: The Story of Ted "Million Dollar Man" DiBiase
. It's probably not exactly what you're thinking a wrestler documentary would be.
Wednesday, Nov. 8
FOOD | It's another
Fried Chicken & Beer
dinner, where you can get your grub on family-style with Adam Hegsted's fried chicken, along with beer from Young Buck Brewing.
COMMUNITY | Spokane Community College hosts
Coming Home: How the Humanities Helps Soldiers Find Meaning After War
. Sadly, it's an ever-timely subject, and this talk shares stories of the men and women who signed up to serve during the wars in Iraq and Afghanistan, and incorporates experiences and insights from famous writers and philosophers about war and its aftermath. It's free.
Thursday, Nov. 9
WORDS | It's
Spokane Is Reading
time again, and this time the community is reading
A Land More Kind Than Home
by author Wiley Cash. Join the discussion at the Downtown Spokane Library tonight.
MUSIC | You might have heard
Garth Brooks
is coming to town, and playing a bunch of shows. The first one is tonight.
COMEDY | Local funny dude-done-good
Dan Cummins
swings through for a weekend of shows at the Spokane Comedy Club.
Friday, Nov. 10
MUSIC |
Third Eye Blind
returns with a bag full of pop-rock hits, headlining the Knit tonight. This is my fave of their tunes, despite the cheesy vid effects:
THEATER | Well f—k me gently with a chainsaw!
Heathers The Musical
hits Cheney for some shows at EWU.
Saturday, Nov. 11
FESTIVAL | The
Spokane Fall Folk Festival
is a big, fat, free awesome gathering of all manner of folk arts, including music, dance, food and more. It's free, and runs Saturday and Sunday at Spokane Community College.