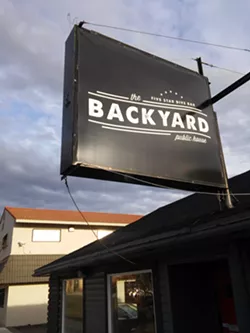 If you just can't quite cram enough sports into your eyeballs, you'll find your hour of happiness at the Backyard Public House, a pub located in West Central that bills itself as a "5 Star Dive Bar."
At
the Backyard
, there are five screens simultaneously displaying sporting activities including basketball, women's boxing and dudes talking about sports. The Backyard puts more emphasis on the "5 Star" part than the "Dive Bar," but tall cans of swill beer haven't been crowded out by the craftier and costlier beverages.
Speaking of which, the Backyard offers up a wide selection of beers and ciders on tap. The staff are smiley and friendly and they'll chat you up while they slice up oranges and limes that they also juice right there at the bar. Some of the citrus might get in your eye, but you can be comforted with knowing that it's used in signature cocktails. There's also a selection of upscale bar food that includes street tacos, pretzels, poutine, nachos and more substantial fare like burgers and salads.
The Backyard is a good place to relax after work and kick back a couple drinks while staring at sports. The only downsides: the stools can be unforgiving to sit on after a while (unless you've imbibed enough) and the wood panel walls echo the thumping dance music, which could result in strained conversation punctuated with "what?" and "huh?"
Happy hour runs from 2-5 every day
, and from
10 pm-2 am
, and features a
dollar off all wine
(which runs from $5-8 a glass) and drafts, meaning you can get a
micro brew for $4
. Also featured is a dollar off $8 signature cocktails.
For information on more Happy Hours around town, download the Inlander's Drinkspotter app from your phone, or
go right here
.