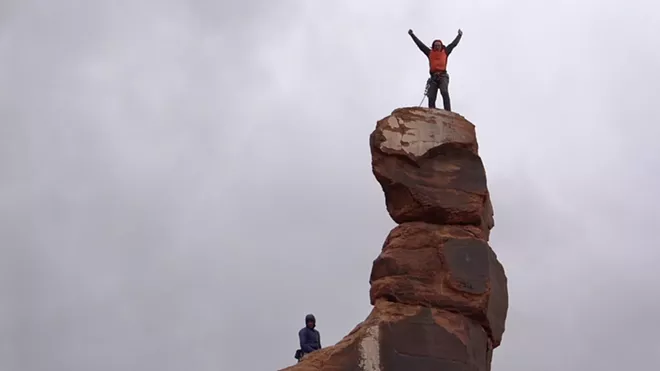 The week ahead is just brimming with quality entertainment, people. Don't believe me? Check out our
event listings
and
Staff Picks
and you'll see.
Here are some highlights of the week ahead:
Monday, April 18
WORDS | It's the
Spokane Poetry Slam Finals
, in which the top eight point-earning poets from the 2015-2016 season compete to determine which four will represent Spokane at the National Poetry Slam in Decatur, Georgia, in August. See the local talent bring their best to the Bartlett stage in this showdown — a nice way to continue the literary vibes of Get Lit! Wait, the prize is going to Georgia in August?
Tuesday, April 19
ETC | The
Nat Geo Live!
series continues at the INB with Sufferfest, tracking an insane trip hiking and biking some of the Southwest's most amazing places. Read our story about Cedar Wright's journey to make the film
here
.
Wednesday, April 20
LIVE BANDS | Well look at that, it's 4/20. So naturally you should mark it with a massive musical throwdown like the
4-20 Celebration
at the Big Dipper, featuring Real Life Rockaz, Flying Spiders and many more.
Thursday, April 21
FILM | The Magic Lantern hosts a special screening of
Trapped
, a documentary about abortion clinics and their staffs and the challenges they face from anti-abortion zealots. The movie was at the Sundance Film Festival earlier this year; here's a look:
BENEFIT | OutSpokane is hosting its
7th Annual Dinner fundraiser
for Spokane PRIDE at the Palomino, an event that includes an auction, a murder-mystery show and, yes, dinner!
COMEDY |
Tom Segura
is one funny dude, and he's doing three days of shows at the new Spokane Comedy Club. Here's a taste:
Friday, April 22
SPORTS & OUTDOORS | You say you've always wanted to be part of a world record? Head to the HUB and be part of an effort to set the
Bubbleball World Record
for the longest game of bubbleball EVER!
SPORTS & OUTDOORS | It's
Free State Parks Day
again, so get outside, people!
Saturday, April 23
COMMUNITY | It's Earth Day in Spokane and, you know, all over Earth, so get in on some of the festivities like the
day-long party in Riverfront Park
, or the
Cleaning from the Corridor
community cleanup on East Sprague.