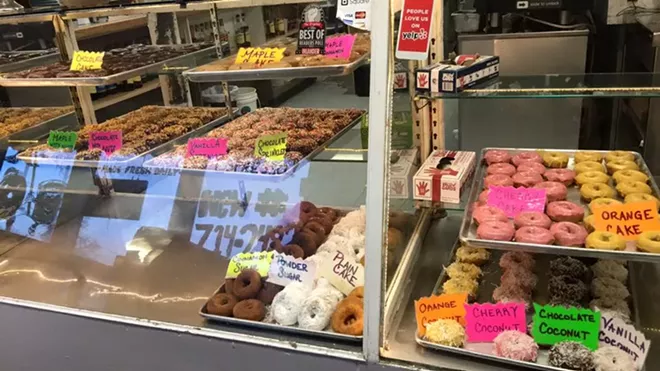 A few months back,
we published a feature
examining how a few locally owned businesses were rising from the ashes of misfortune. One business featured in the piece had been facing what seemed like a relentless stream of mishaps and misfortunes. Yet after the
recent announcement
that longtime Spokane business Donut Parade has closed its doors for good, it seems the Reno family has run out of options.
Since posting that
decision on the shop's Facebook page
this past Sunday, it's been shared more than 800 times. There are more than 650 comments from people expressing their sadness to see Donut Parade go. Others, though, question the financial and management decisions of its owners.
When we talked with co-owner Christian Reno in late August of this year, Donut Parade had been struggling to stay afloat after a car crashed into the shop's front entrance. Because the building's owner hadn't repaired that damage in the months following that incident, Reno told the
Inlander
that many of customers saw the boarded up doorway and thought the business was permanently closed.
"I know it sounds really stupid to say," Reno said at the time, "But we really don't know what's going on. I don't have the money [to fix the door], and it was slow before that and it's been slow since then."
A few weeks after our interview with Reno, however, and the shop's front door was finally repaired.
Before the car accident damaged the building, she said a power outage on National Donut Day (June 3) — one of the busiest days of the year — forced the shop to close early. The Renos, who bought Donut Parade back in 2008, closed the shop for a week after that to decide if they were going to keep trying to get the business to a financially viable status. Then, just days later, a car plowed into its front door.
Reno also told us in August that not only was the shop falling far behind on its bills, but her family was, too. She expressed gratitude for many of Donut Parade's regular customers who'd been helping buy things like coffee and lemonade mix that she'd trade for donuts.
"We just keep rolling the dice and keeping our fingers crossed that we can stay open," Reno said. "That is 100 percent my plan."
In the days since announcing Donut Parade's permanent closure, a GoFundMe campaign seeking to raise $80,000 was launched in an attempt to reopen the shop. So far, just over $2,200 has been donated, to be used for the following, according to the campaign:
"We here at the Donut Parade have given our all to keep the doors open but as any small local family business owners know, there are many, many, many expenses to keep things afloat. Any amount donated is appreciated and is 100% going back into the business. We are apart [sic] of this community, live in this neighborhood, our children have grown up in this establishment. The Donut Parade is apart [sic] of who we are. With that being said, we are reaching out to our community asking for help so we can continue to serve the great people of Spokane. With our goal being $80,000, this covers our past due expense of power bills, water, supplies, building repairs, loans we've taken to try and stay open, business revenue...and rent."