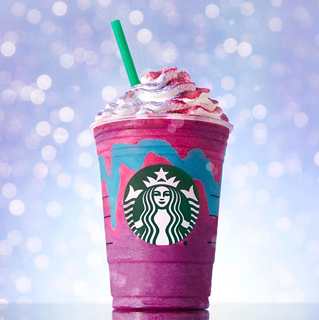 In case you missed it last week, everyone on social media was pretty much losing their minds over that
"unicorn" Frappuccino from Starbucks
.
Apparently you can't even order the pink-and-blue, calorie-exploding (410 calories per 16 ounces, plus 59 grams of sugar) monstrosity anymore; it's described by its creator as follows: "Magical flavors start off sweet and fruity transforming to pleasantly sour. Swirl it to reveal a color-changing spectacle of purple and pink. It's finished with whipped cream-sprinkled pink and blue fairy powders."
OK. Not to be a hater here (I never tried the drink; its sweet-and-sour flavor combo seemed starkly divided between love it or hate it),
but what is up with all these rainbow-hued foods?
Clearly, I'm behind the curve:
This Facebook post
from
USA Today
literally just tried to teach me how to make "unicorn" noodles. And just the other day, a friend shared a photo of her plain bagel that was made less plain by the presence of neon, rainbow-swirled dough.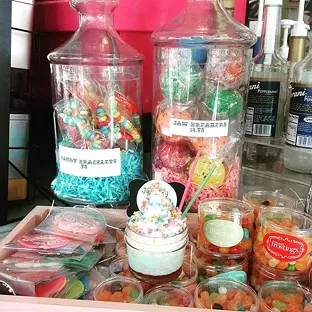 Even local food purveyors are smartly getting on board this hype train. Spokane's
Sweet Frostings
confection bakery not only offers adorable
unicorn cakes
, but has its own version of a drinkable, cotton-candy-tasting unicorn treat.
And don't forget the
Gilded Unicorn
restaurant downtown, where the food may not be as colorful, but certainly reaches similar levels of culinary indulgence. Though it debuted well before this trend took off, the Gilded Unicorn features many whimsical names on its menu, à la the "sparkle burger" and the "unicorn mac 'n' cheese."
It turns out that the unicorn food trend is largely the work of
folks on Instagram
trying to produce the sweetest, sparkliest, sprinkle-est and most colorful edible concoctions that look like they're straight out of the
My Little Pony
or Lisa Frank universes. If you can eat it,
you can unicorn-ify it
: toast spreads, cake, lattes, pretzels, grilled cheese sandwiches and much, much more. Bangkok is even home to a
Unicorn Café
.
The previously linked
New York Times
story reports that the fad has existed in the corners of social media, and in some dining establishments, for well over a year. Yet some of us are just catching on, because of — you guessed it — Starbucks' recent marketing ploy. These rainbow-colored edibles allegedly first appeared in
the Instagram feed of a young food stylist
, who caught the social media world's attention when she added naturally occurring food dyes to
items she photographed
. (
Head to Pinterest
for even more rainbow-hued food inspiration, from colorful veggie pizzas to sushi rolls.)
As with any creative trend in food, design, fashion, etc., we predict that this, too, shall pass. Yet, let it be noted that during my personal quest to determine the origins of this "magical" cuisine, I came across two very viable predecessors: "
mermaid toast
" and the complete antithesis of both,
goth black desserts
.