A lot of people tend to mistake me for a vegetarian, which is understandable because I eat a fair amount of veggie burgers and meat alternatives, like tofu. I'm not a vegetarian, but I do consciously try to limit my intake of meat for many reasons.
This confession, however, doesn't mean I don't enjoy a juicy burger — which are
not hard to find in this town
— every now and then. But my own and America's collective love of ground beef patties
comes with a cost
, to our health (everything in moderation, folks) and to the environment. These concerns are paramount in the
James Beard Foundation's
annual
Blended Burger Project
, going on now, which challenges chefs across the country to blend ground meat with chopped mushrooms to make a "an incredibly delicious patty that's healthier for your guests and more sustainable for the planet."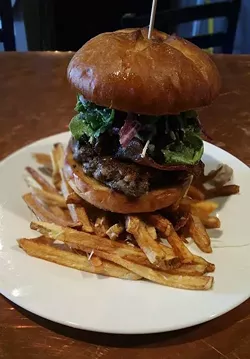 The competition started on May 29, and runs through July 31. To qualify for the program, chefs must swap at least 25 percent of their burgers' animal protein with mushrooms.
Of the nearly 350 chefs across the nation who've signed up to participate in this year's Blended Burger Project, three Spokane eateries are on the list:
Prohibition Gastropub
in North Spokane and
Remedy Kitchen and Tavern
on the South Hill.
Allie's Vegan Pizzeria & Cafe
was a late entrant to the competition, and is offering an all-vegan burger with tempeh bacon, cashew cheese and barbecue mayo.
At Prohibition, find Chef John Leonetti's "
Voot Burger
," which contains a blend of shiitake, oyster and cremini mushrooms with his signature coffee-grounds-infused beef. The Voot comes with greens, feta, diced onion, tomatoes and a fontina cream sauce, and is served atop a pretzel bun.
Adding finely chopped mushrooms to a ground meat blend — whether beef, turkey, lamb, pork or something else — can heighten the rich and savory characteristics, called
umami
, of both the meat and the mushrooms.
Subbing mushrooms for ground meats
also reduces sodium, calories and fat without a major sacrifice in flavor, according to information from the national nonprofit
Mushroom Council
, a partner in the Blended Burger Project.
Mushrooms also boost texture, and perhaps best of all, the abundant and diverse fungi is significantly less expensive to procure, and offers a substantially lower environmental impact during production as compared with meat.
Customers who try participating restaurants' versions of the blended burger can
vote online
for their favorite. The chefs who created the top five blended burgers get an invite to the James Beard House in New York City to showcase their creations during an event next year. This year's winners will be announced in August.
For last year's iteration of the Blended Burger, diners may remember trying versions from local participants Santé Restaurant & Charcuterie, the Lantern Tap House and the Wandering Table.
The James Beard Foundation is renowned in the culinary world, and programs like the Blended Burger Project, among other campaigns, are meant to further its mission of "celebrating, nurturing and honoring chefs and other leaders making America's food culture more delicious, diverse and sustainable for everyone."

This post was updated on June 15 at 10:57 am to add information about Allie's all-vegan burger entry.