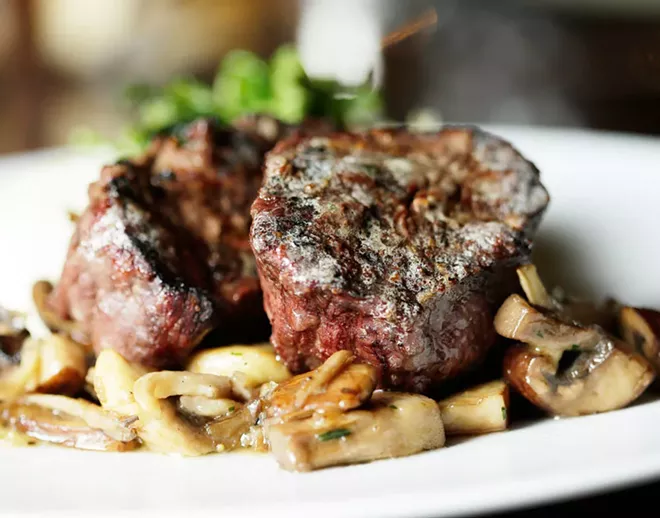 With the opening night of Inlander Restaurant week just hours away "It's like Valentine's Day for 10 days in a row," says Julie Holland, director of communications for Northern Quest Resort and Casino, where Masselow's is the signature restaurant. "We know we have to be on our game."

e checked in with Masselow's Chef Tanya Broesder to see how the calm before the storm was going. "We're ready," she said Thursday afternoon, adding that a lot of the final preparations have to do with prepping the waitstaff for what's to come.
Servers will meet lots of new people during the run of IRW, and even though it's sure to be busy, Broesder wants to maintain the quality of service diners expect from Masselow's. Finishing touches aside, the food's been in the works since early January.
"I've been working with my suppliers for the best beef tenderloin and salmon we can get," Broesder says. "The salmon was a huge hit last year, so we kept it on the menu for this year, too."
Night one is now in the books, with a busy weekend of dining out starting up tonight. You can
peruse the menus of the 100+ participating restaurants
to make your own plan. Here are some of the experiences
Inlander
team members had out on the town Thursday.
Ruins
Emily Walden, account executive
Rolling in toward the end of a busy opening night, Emily got a table right away — which is unusual, as Ruins does not take reservations and is busy on weekends year-round. She immediately took advantage of the
Drink Local
option — the Mr. Wednesday cocktail, featuring Dry Fly gin and fennel liqueur. "Yummy!"
And her group loved the raviolo al uovo: "The broth by itself was wonderful," says Emily, "but then you break the egg and mix in the creme fraiche and it turned into a whole new thing that was amazing. And the braised beef was to die for."
Nutella fans, you are on notice: One of Ruins' dessert choices is Nutella tiramisu.