W
e've been busy this year.
Since 2017, the
Inlander
has been cranking stories about the upcoming midterm elections. They are, perhaps, the most consequential midterm elections in a generation, and definitely the most important since at least 2002.
Below, we have listed dozens of the top
Election 2018
stories that appeared in print and on Inlander.com. Don't feel bad if you don't read all of them before tomorrow's election. There's a lot.
The best part is that if you're reading this before Nov. 6, you still have time to read up before you vote.
LOCAL
Spokane County
"
Four candidates vying for two Spokane County Commission seats
," plus candidates for
Spokane County treasurer
. We also detail the
school district bond
and
public library bond
on the ballot.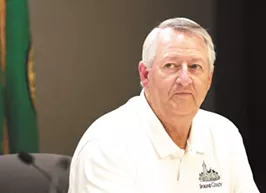 Criminal justice
will be a major concern for the Spokane County Board of Commissioners. "Between the Sheriff's Office, detention services and the courts, public safety makes up 75 percent of the county budget's general fund expenditures."
We interview the commission candidates on their positions and experience
.
In an unprecedented move, Avista spent $200,000 on ads supporting
Spokane County Commissioners Al French and Mary Kuney
.
Al French was losing pretty badly in the primary election, which is a
district-only
vote. He's also been fighting to prevent the
general election from ever becoming a district-only vote
, too.
Candidate for Spokane County Sheriff,
Scott Maclay
, who changed his name to DumpOzzie Dot Com,
died in a motorcycle accident
.
Michael Baumgartner
announces that he will
run for Spokane County treasurer
.
SCHOOLS
Spokane mayoral adviser
Rick Romero
details why it would make sense to replace Joe Albi Stadium
at a location
downtown
.
The idea for a new
downtown stadium
looked dead.
Here's how it was revived
.
Spokane Public Schools
asks the city to take on
extra costs in a downtown stadium bond proposal
.
WASHINGTON

CATHY AND LISA: THE FIGHT FOR THE 5TH
Democrats in red districts across the country say they won't support
Nancy Pelosi
for House speaker if they win a majority.
But Lisa Brown isn't set on a decision yet
.
Someone with a
Russian IP address
tried to break into Fuse Washington's website
after the organization released a secret recording to the
Rachel Maddow Show
.
Is Cathy McMorris Rodgers' Democratic challenger
Lisa Brown as liberal
as everyone says she is? Or would she strike a more moderate tone if elected?
Once a deficit hawk,
Rep. Cathy McMorris Rodgers
now
condemns her opponent Lisa Brown
for making budget cuts while in the state Legislature.
We asked McMorris Rodgers and Brown to both place themselves on a
political quadrant
.
We analyze the results
.
Cathy McMorris Rodgers was at a loss when we asked her
what she would have cut
from the
state's budget
during the recession if she were in Lisa Brown's shoes.
Washington's economy
is doing great — except for three counties north of Spokane. We talk to Cathy McMorris Rodgers and Lisa Brown
about what they would change
.
Cathy McMorris Rodgers
cited one of our articles in an attack ad
... although her staff appeared to have
doctored
it to remove some criticism.
We ask why Cathy McMorris Rodgers says she signed
a controversial 2015 immigration initiative
,
Proposition 1
.
As it turns out, budget cuts in the state Legislature while Lisa Brown was Senate majority leader
led to higher college tuition
.
Trump lied
about Stormy Daniels, but
Cathy McMorris Rodgers says she still supports him
.
Cathy McMorris Rodgers released attack ads that seemed to suggest Lisa Brown wanted
sex offenders
back on the street. She later said
she regretted the tone of the ads
.
Activists rally outside of Cathy McMorris Rodgers' office in support of
immigrants
.
Many of them are on the ground, supporting the immigrants
currently in the states.
Besides condemning Trump, Lisa Brown's
immigration
views
are vague
.
Christian
voters face a moral test
as the impacts of President Trump's
family-separation
policy are revealed.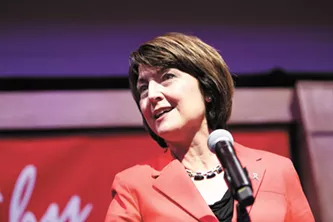 How has Cathy McMorris Rodgers'
faith
influenced
her response to Trump
?
Cathy McMorris Rodgers hasn't taken the
Russia investigation into the 2016 election
very seriously.
Cathy McMorris Rodgers says that
Donald Trump should release his tax returns
.
Lisa Brown hopes that
anti-Trump enthusiasm
will help her win the 5th District
.
How can Cathy McMorris Rodgers
portray the GOP as the party of compassion
when it's led by Trump?
Cathy McMorris Rodgers and Lisa Brown both agree that the
president's tariffs
are bad for Washington.
Would they try to stop them
?
Democrats
might actually have
a shot at Cathy McMorris Rodgers'
5th District seat.
LEGISLATURE
How a conservative activist has used the
state's loose political advertising rules
to deceive progressive voters in Washington's 6th legislative district
.
We
examine the candidates who are looking to shape policy in Olympia
, and we also recap the four voter
initiatives
. Plus, a quick look at the U.S. Senate race between
Maria Cantwell
(Democrat) and
Susan Hutchison
(Republican).
The
6th District
has always been close.
2018 is no different
.
6th District candidate
Jenny Graham
has a number of reasons why she thinks
Washington state should have the death penalty
. A big one is her sister, who was murdered by the Green River Killer.
District 3
Rep. Timm Ormsby
has
never debated in public before
. His opponent, Dave Lucas, wants to change that.
Spokane Valley
Rep. Matt Shea
falsely claimed an endorsement
from the Spokane County Deputy Sheriff's Association.
Election night
looked so good for Democrats during the primaries...
until more of the votes were tallied
.
Spokane Democrats
learn how to be happy with some
big leads during during the primary
election.
A judge rejected lawmakers' unusual effort to change
Washington's law on police use of deadly force.

Will the Washington
Legislature
ever be
willing to play by the same public records rules
as a city council or mayor's office?
INITIATIVES
Big Oil has pumped
$26 million into defeating Initiative 1631
, which would create a carbon fee.
No on 1631
is the most expensive campaign in state history.
Scientists urge Washington voters to pass
Initiative 1631
after a doom-and-gloom report from the U.N.
Washington state would be the
first to implement a carbon fee
if voters approve
Initiative 1631
.
The state Supreme Court struck down a law that would make it easier for prosecutors to charge police in
deadly use-of-force
cases. Instead,
the law would go to voters as Initiative 940
.
IDAHO


GOVERNOR

Brad Little
is a steady choice for
governor deep-red Idaho, but Democrat Paulette Jordan
has the state's progressives excited.
After the primaries, it appears that
Paulette Jordan and Brad Little will compete
for the
governor's office
.
We take a look at the top
three Republican
contenders for Idaho governor
.
Idaho Democrats
are
hoping to build momentum
in the gubernatorial primary for the future.
We look at the top
three Democratic
contenders for Idaho governor
.
CONGRESS
We look at who is the "most pure and pragmatic
Republican
"
candidate for Idaho's 1st Congressional seat
.
Idaho 1st Congressional District primary winner
Russ Fulcher
says Trump is a "jerk," but
if elected, he can speak his language
.
Kootenai County GOP
rejects Yemen resolution
;
Rep. Raúl Labrador
joins Yemen war skeptics.
Before he ran for Congress, Idaho's
Raúl Labrador
argued in favor of the DREAM Act to protect children of illegal immigrants.
Times have changed
.
LEGISLATURE
We take a look at some of
Idaho's legislative candidates looking to head to Boise
. Plus, a recap of Idaho's voter
initiatives
,
1st Congressional District
and
gubernatorial candidates
.
PROPOSITIONS
Idaho Gov. Butch Otter
endorses Medicaid expansion
.
Proposition 2
is on Idaho's ballot, and the
possibility of the state finally expanding Medicaid
is very real.
Here's how little "
historical horse racing machines
"
have to do with historical horse racing
.
If you ask Idahoans, they say
they want broader health care coverage
in the state — but not if you mention Obamacare.
OTHER STORIES
Almost 10 percent of
Spokane voters
are marked as "inactive"
as of Oct. 26. And 34,285 voters is no small number.
Brian Standow
reveals to the
Inlander
the amount of discord within the ranks
of the local GOP
.
Jered Bonneau was hoping to get an
endorsement from Matt Shea
in his challenge against Cathy McMorris Rodgers.
But McMorris Rodgers managed to get it instead
.
Sheriff Ozzie Knezovich is not surprised that the
Spokane GOP
's more fringe elements
hosted a white supremacist at one of its events
.
We interviewed two candidates who were formerly
homeless
about
how it shaped their ideas
on government.
Spokane GOP hosted
white supremacist James Allsup
at one of its movie nights, who
accused the media of "label lynching" him as a racist
.
How do you fight the
alt-right
without playing right into their hands?
Left-wing Spokane groups grapple with the question
.
We looked at
47 ways to reduce gun violence
.

State Sen. Billig's "dark money" bill would root out secret big money donors in Washington elections

How the campus culture wars in the age of Trump and Twitter have reached a fever pitch at Washington State University — and everywhere else.

We interviewed conservative pundit Ben Shapiro about the rise of the alt-right on college campuses.