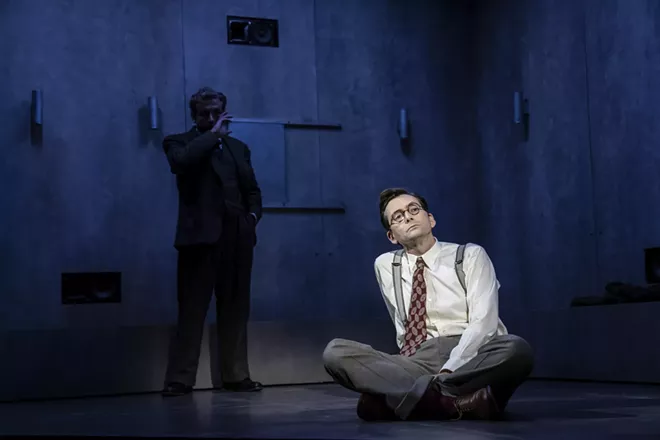 If "summer theater" conjures images of actors holding skulls aloft and waxing existential in a park, you're in luck. Because this summer's offerings both meet and defy those expectations. You can certainly catch Hamlet or Measure for Measure performed en plein air by Shakespeare pros, but you also have the option of kicking back in an air-conditioned theater and watching big-name Broadway musicals, original plays or quick-witted improv skits.
SKIP THE PLANE, TAKE THE BUS
You don't have to book an expensive flight to London to catch award-winning theater featuring some of Britain's top actors. Instead, catch the bus downtown to the Bing for the Stage to Screen series of special performance films. On June 18, David Tennant (Doctor Who, Broadchurch) stars in a 2022 staging of Good, C.P. Taylor's acclaimed drama about the psychology of Nazism. And on Aug. 20, Katherine Parkinson (Doc Martin, The IT Crowd) and John Heffernan (The Crown, Dracula) take the lead roles of Beatrice and Benedick in Shakespeare's romantic comedy Much Ado About Nothing from a 2022 National Theatre run directed by Simon Godwin. Details and tickets ($20) are at bingcrosbytheater.com.
FROM A TO B
Back for its 33rd year, the Spokane Civic Theatre's Bryan Harnetiaux Playwrights' Forum Festival (June 15-18) is a showcase of one-acts from playwrights across the Inland and Pacific Northwest. There are two different sets of five plays each, called Rotation A and B, and they're performed in an alternating fashion over the four-day run. This year, Rotation A has a total of three Spokane playwrights and titles like The 19 1/2 Deaths of Dung Beetle-Man and Inevitable Pandemic Play: Day 182. Rotation B, on the other hand, features plays like Maid/Man and When the Chaos Started from writers nearer the coast. It's just $15 per rotation; times and details are at spokanecivictheatre.com.
BEHIND THE BLUE DOOR
The Blue Door Theatre mixes up their Friday night improv theme each month throughout the summer. In June, it's the dice-rolling comic roleplay of Blue Doors & Dragons. Come July, Ink Blot prompts a self-reflective Rorschach test. Things get amusingly clairvoyant in August with Medium-at-Large, and September skewers reality TV with The Real _(Blanks)_ of _(Blank)_-ville. The comedy is aimed at general audiences, and tickets are only $9. More info at bluedoortheatre.com.
IMPROV & IMPROVEMENT
If you're looking to dabble in improv, head to the Pend Oreille Playhouse at 5 pm on the first and last Thursday of every month. It's an all-ages, open-invite event that welcomes curious beginners and seasoned practitioners alike. For kids (ages 6-12) and teens (ages 13-18) who want to hone their acting chops instead, the Pend Oreille Playhouse offers a Youth Theatre Camp during the week of July 7-14. It culminates in a performance on July 15 after they've learned theater skills and etiquette. Check out pendoreilleplayers.com for costs and event info.
SUMMER FLINGS
Grease (June 16–July 2) is the word for the start of Spokane Valley Summer Theatre's 2023 season. It's 1959, and straight-laced Sandy Olsson transfers to Rydell High for her senior year. The move brings her face to face with her summer fling, greaser Danny Zuko. Danny has a tough-guy image to maintain among his classmates, however, and Sandy has to negotiate the rivalries and jealousies of the Pink Ladies as she struggles to fit in. On the road to realizing true love, there are classic songs like "Greased Lightnin'," "Summer Nights" and "Beauty School Dropout."
Almost immediately after that is the regional premiere of Bright Star (July 14-23), the 2015 musical by Steve Martin and Edie Brickell. The show grew out of their joint 2013 bluegrass album, Love Has Come for You, and in particular the song "Sarah Jane and the Iron Mountain Baby," which inspired Bright Star's story of a mother who longs to be reunited with the son she put up for adoption. The folk-style instrumentation — the score calls for fiddle and banjo — and interwoven storylines make for a musical that breaks the conventional mold.
Then it's time to Escape to Margaritaville (Aug. 4-20). This feel-good jukebox musical is a hit parade of classic Jimmy Buffet tunes like "Cheeseburger in Paradise," "Margaritaville" and "It's Five O'Clock Somewhere." Writers Greg Garcia and Mike O'Malley constructed a comedy narrative that connects those musical waypoints like a Buffet fever dream. As you might expect, there's plenty of romance, drunken revelry and laid-back island philosophizing — not to mention buried treasure and an active volcano to up the stakes. Visit svsummertheatre.com to purchase tickets.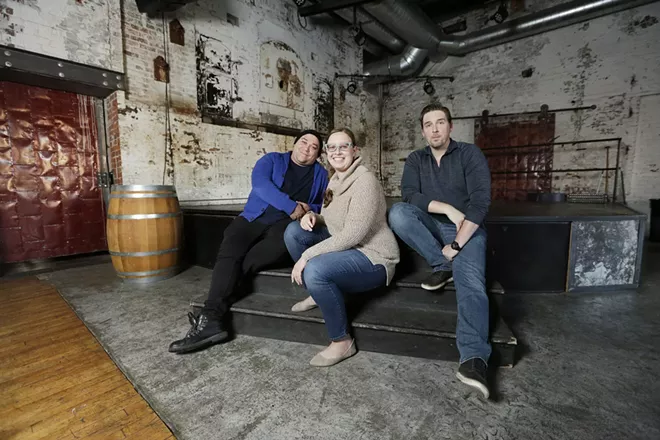 THE POWER OF MUSIC
Music can unite families in trying times, transform small towns and even breathe new life into classic works of literature — and that versatile power is on display with Coeur d'Alene Summer Theatre's 2023 lineup. It opens with The Sound of Music (June 30-July 9) and continues with a musical version of Footloose (July 21-30) before wrapping up with a recent adaptation of Jane Austen's 1813 novel, Pride & Prejudice, A New Musical (Aug. 11-20). Their new website at cstidaho.com has the lowdown plus ticket purchasing info.
AXE ME NO QUESTIONS
Were folk tales and tabloid headlines to be believed, Lizzie Borden brutally applied both sides of a hatchet to her father and stepmother one August morning in 1892. The 32-year-old Borden, who hailed from a wealthy New England family that was now smaller by two, was later acquitted, even though suspicion remained on her for the rest of her life. As the follow-up to their inaugural production of Lord of the Flies, Bright Comet Theatre is staging Lizzie, a rock retelling of the sensational murder mystery, with Elizabeth Theriault in the title role. Keep an eye on brightcomettheatre.com for venue and performance dates in July.
LOUDER THAN BOMBS
Back in mid-July of 2019, the Spokane Civic Theatre staged Spring Awakening as a summertime main stage show. Four years and one pandemic later, co-directors Sarah Junette Dahmen and Jake Schaefer have reunited to put on another midsummer musical by Steven Sater and Duncan Sheik, the very same creative team behind Spring Awakening. Called Alice by Heart (July 14-23), it's a fantastical return to Wonderland set amid the chaos and tragedy of the London Blitz during WWII. Tickets ($35) and more info are at spokanecivictheatre.com.
2B OR NOT 2B WITH S3
Between July 20 and Aug. 6, the Spokane Shakespeare Society performs Hamlet one evening, followed the next evening by Rosencrantz and Guildenstern Are Dead, Tom Stoppard's absurdist comedy about two minor characters in that very tragedy — played by the same actors, no less. A second repertory run will be held Aug. 31 to Sept. 17. Admission is free, and the setting is outdoors in various Spokane parks; spokaneshakespearesociety.org has details on showtimes and locations.
RAIN MUST FALL
Normally musicals go from stage to screen, but Singin' in the Rain was such a hit that it reversed the order. This West End (and later Broadway) version was adapted by the film's original screenwriters, Betty Comden and Adolph Green, and cleaves closely to the plot and music of the beloved 1952 Hollywood musical starring Gene Kelly, Donald O'Connor and Debbie Reynolds. Yet the key question remains: How will Aspire Community Theatre handle the showery title number? Only one way to find out. Showtimes and tickets ($22-$28) for the Aug. 4-13 run can be found via aspirecda.com.
BIRDS OF A FEATHER
You might've heard of Spokane Playwrights Laboratory, which helps develop scripts by local writers. But what happens to those scripts once they're done being workshopped? Well, one outcome is that they get turned into full-fledged productions, as is the case with An Aviary for Birds of Sadness (Aug. 11-27). This dark comedy by Spokane playwright Tristen Canfield is about the support of a found family as individuals work through mental illness. Lisa Edwards directs this production for Stage Left Theater. For showtimes and tickets, visit stagelefttheater.org.
MEASURES & MUSKETS
Montana Shakespeare in the Parks isn't all about Shakespeare. Sure, the itinerant troupe is performing the Bard's dramedy Measure for Measure at Lakeview Park in Sandpoint on Aug. 19. But the following night the same actors perform Robert Kauzlaric's adaptation of the swashbuckling epic The Three Musketeers in Liberty Lake's Pavillion Park. Performances are free; shakespeareintheparks.org has the full schedule. ♦